Pyramid Arcade comes with 22 games...
Watch the Looneys play through all 22 of the games in Pyramid Arcade
Here are links to the 22 More Great Games that are referenced on Pages 71-73 of the Pyramid Arcade rulebook. This list was selected by the Community of Starship Captains in the spring of 2016 from hundreds of games that have been designed for these pyramids. (Many of the links on this page go directly to PDF files.)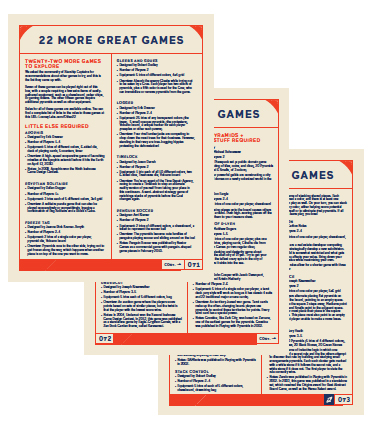 MORE PYRAMIDS + OTHER STUFF
---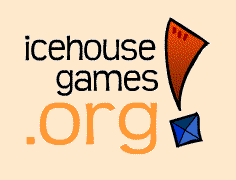 The fan run wiki (IcehouseGames.org) is another great place to find rules to other pyramid games - the commuinity of pyramid game designers have designed hundreds of games over the last two decades!
Join the Starship Captain Facebook Group to find pyramid fans to talk about pyramid games you might want to try - and to look for people to play/test the new pyramid games that you design.

---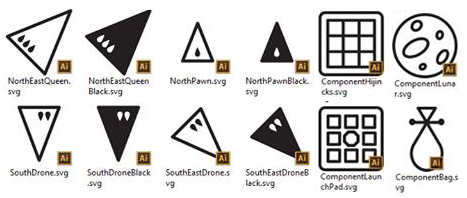 Speaking of pyramid fans helping other fans with their game designs, when your game rules are ready to format into a nice looking rulesheet, our fans have created tools to help you easily format rules that will look great tucked into your Pyramid Arcade rulebook. Lou Lessing developed a font that contains all the little pyramid and game board images you might need, and Micah Weberg created game rules templates that should work in any modern word processor.
Zip Files: Pyramd Arcade Font • Pyramid Arcade Rules Template
---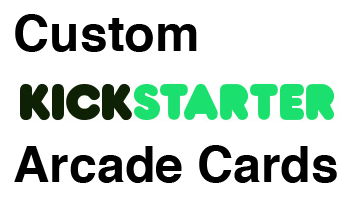 As part of the $333 Custom Card level of our Pyramid Arcade Kickstarter, we created custom Arcade Cards for these sponsored games: