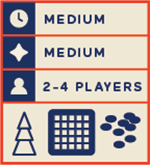 Stuff You Need To Play:
12-15 (?) Trios (any color not used for players or protesters)
1 pawn per player (or medium pyramid of a color not used for trees or protesters)
3-4 small pyramids of a non-tree, non-player color
Volcano Board (5x5 grid)
Publication History
This game is mentioned in the back of the Pyramid Arcade rulebook, on the list of "22 Other Great Games" recommended by the pyramid community.
Other Notes
No PDF is available, but rules can be found online at the icehousegames wiki link above.