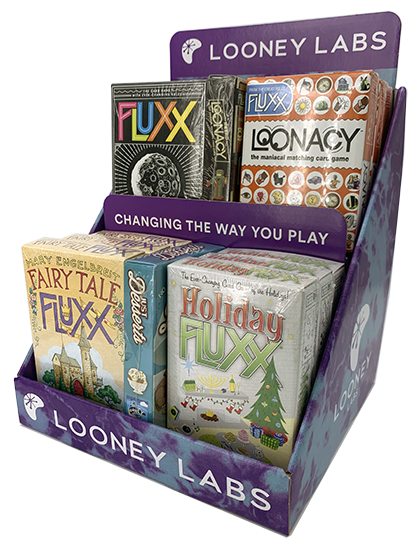 Welcome, Retailers!
Welcome to the Retailer section of Looney Labs - we love our retailers! The network of Friendly Local Game Stores (FLGS) who promote and sell our games are indispensable partners in our efforts to publish games, and we are always seeking to support them. This page is all about the many ways we can work with your game store (or your toy, book, or gift store) to sell our products together.
Questions? Call (301-441-1019) or email us (retailers@looneylabs.com).
Although we do not have a formal MAPP policy in place, we have a strict policy (which our distributors help us enforce) not to sell to retailers who primarily sell via 3rd party marketplaces. We LOVE it when our retailers sell our games at full MSRP and truly appreciate that you never discount more than 20%.
CHECK OUT THE DISPLAY IN ACTION
About Our Products
Opening an Account
Fill out this form to request credit terms from Looney Labs.
Getting Stocked
Retailers can buy our games either directly from us or through one of our authorized distributors.
Find a Distributor


Please order through one of our great distributors!
Download our current price list / order form.
Full Returnability
100% returnability of saleable copies
(customer pays return shipping).
Retailer Resources
Point of Purchase Display
We have an awesome new POP display, with several available configurations, focusing on Family Games, Popular Culture, and Educational.
Thanks for selling Looney Labs games!
Our POP displays in action @Fenwickbooks