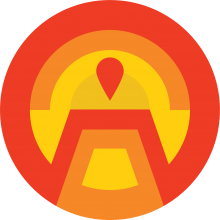 Volcano
A puzzle game of causing eruptions and matching pieces to collect a set of trios.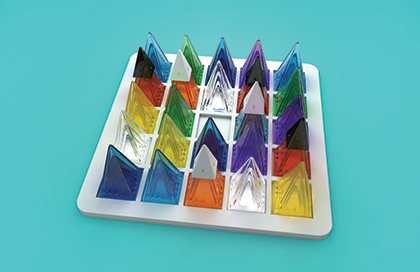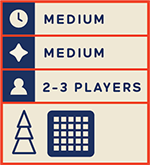 Stuff You Need To Play:
3 Trios each of 8 different translucent colors
6 small pyramids of opaque colors (for example, 3 black, 3 white)
Volcano Board (5x5 grid)
Videos
Publication History
Volcano

is one of 12 games featured in Playing with Pyramids, published in 2002.
A variation of this game known as Caldera was included in Pyramid Primer #1. The rules from that version are still availble in this PDF.

This

is one of the 22 games featured in

Pyramid Arcade.
Other Notes
The

Pyramid Arcade

version of Volcano is technically a variation called Fiesta Caldera. We feel it's the best version, so it gets the original name.
Since this game pioneered the usage of the 5x5 grid, we call all such boards Volcano boards.