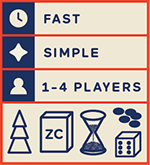 Stuff You Need To Play:
1 Trio each of red, yellow, green, blue, black
52 cards, with suits of 13 cards in red, yellow, green, blue. A Zark City deck or other available card games with this distribution would work. Card value does not matter.
A 15-minute timer • 5 tokens
1 six-sided die
Publication History
This game is mentioned in the back of the Pyramid Arcade rulebook, on the list of "22 Other Great Games" recommended by the pyramid community.
Other Notes
Winner of the Spring 2009 Icehouse Game Design Competition.
No PDF is available, but rules can be found online at the icehousegames wiki link above.
Some sources say Apophis will hit on April 13, 2029; others give different dates, or say it won't hit us at all. We'll find out soon enough!