The History of Looney Labs, as Seen Through Our Annual Holiday Gifts
By Andrew Looney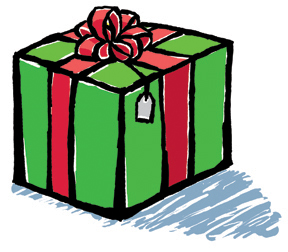 November 30, 2012
To understand the history of Looney Laboratories, go back 3 companies
to a fictitious corporation called Empire Publications, which I thought up
back in 1986. I'd just gotten out of college and was eager to break into
print as a writer. But I had no patience for the usual routine of sending
manuscripts off to publishers only to get a rejection months later; so I
published a booklet of my stories on my own, and gave copies away as
my Christmas presents that year. This started a tradition of creating and
giving something new away each year. In 1989, I joined forces with Kristin, and this merging of talent was the true beginning of Looney Labs. With my ideas and her ability to figure out how to get stuff manufactured, we started producing a wide range of unique gift products as Christmas gifts for our friends. For many years,
our gifts were manufactured under the company name Geronimo! Industries, but in 1996 we closed out that company (as well as Icehouse Games, founded with several others for the purpose of making Icehouse game sets) and started up our fourth company, Looney Laboratories. Everything we'd done up to that point was basically practice; with Looney Labs, we set out to make our living creating cool new stuff.
This document describes the complete set of custom made holiday gifts we've concocted over the years.
Note: Unfortunately, several of these items are out-of-print, but some are still for sale!
---
1989: Icehouse Piece Ornaments
In 1989, Icehouse Games produced a run of 100 hand-poured Icehouse game sets. When we were done, we used the molds to make a small run of two-tone icehouse pieces, red and green, which we then strung onto loops of string and gave away as ornaments.
The Retro-Futuristic, Self-Contained, Abstract Strategy PocketBoardGame for 1 or 2 players.