Icehouse
No board, no turns. Standing pieces defend, flat pieces attack. For sharp minds and steady hands.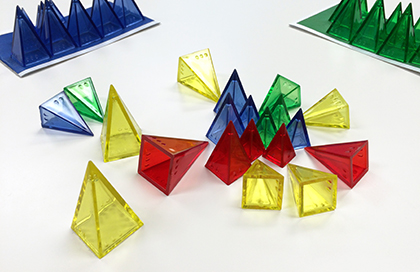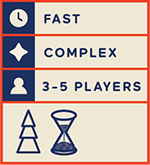 Stuff You Need To Play:
5 Trios of a color for each player
table markings or cards for each player denoting their "stash area"
a timer
Videos
Publication History
The First 100 Sets: Icehouse was first published as a limited run of 100 signed and numbered sets, featuring handmade plastic pyramids, packaged in a simple black box, in December 1989. (One such set is shown here.) A few additional rounds of handmade plastic pieces were also sold at this time, in even smaller runs and in various non-standard colors.

"Origami" Icehouse: The second version of Icehouse featured cardstock punch-and-fold pyramids, available in two color schemes.

Xyloid Icehouse: The third version of Icehouse, released in 1993, featured factory-cut wooden pyramids ("xyolid" means "of or relating to wood") which were hand-colored using leather dyes and sold in a black, drawstring bag.

Although its name is on the box, Icehouse is NOT one of the 4 games featured in 1999's Icehouse: The Martian Chess Set.

Icehouse is one of 12 games featured in

Playing with Pyramids

, published in 2002.

Icehouse was included in Pyramid Primer #1.

The rules from that version

are still availble in

this PDF

.

Icehouse

is one of 12 games for which special cards

were created during the Pyramid Arcade Kickstarter campaign.
Other Notes