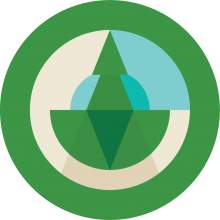 Treehouse
Rearrange your trio of pieces to match the arrangement of a trio centered on the table.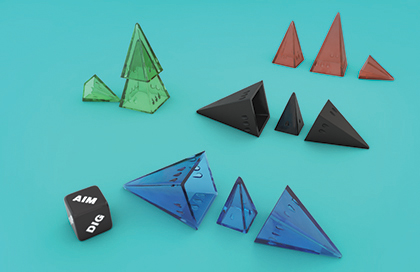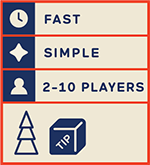 Stuff You Need To Play:
1 Trio per player, plus 1 Trio for "The House"
(color doesn't matter, but it's nice for each player to have their own color)
The Treehouse Die
Publication History:
Treehouse was first published in a clear plastic tube, in two color options, Rainbow and Xeno.

Treehouse was later republished in a green pyramid-shaped, zippered bag, but only in Rainbow colors. Pharaoh was included as a bonus game.

A special edtion of Treehouse using just pink pyramids, called Pink Treehouse, was released in 2008.

Treehouse

was included in Pyramid Primer #1. The rules from that version are still availble in this PDF.
Treehouse is one of the 22 games featured in Pyramid Arcade.
Treehouse is highlighted in the instructions for Nomids as being another game you can play with that said, along with 2 other games (Pharaoh and Pyramid-Sham-Bo).
Historical Notes