Buy expansion packs here!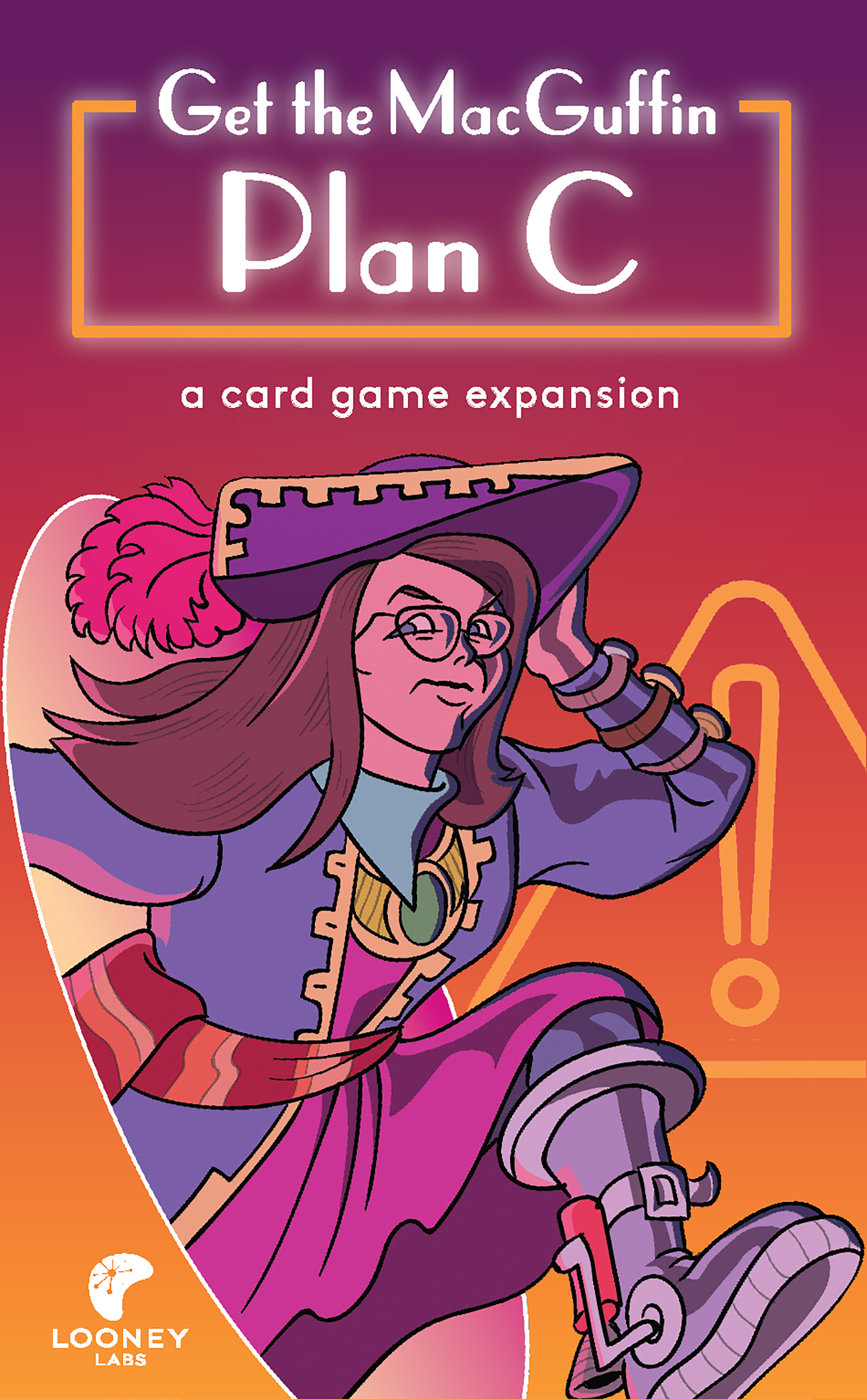 Plan C Expansion Pack
Plan C is a brand new expansion for Get the MacGuffin featuring 6 never-before-seen cards! These cards have amazing powers that really shake things up. You can use your Third Eye to peer beyond the veil or bring something back from the past with the assistance of the Time Traveler. Of course, when the chips are down, you can always cross your fingers and fall back on Plan C!
Plan C Expansion Pack Card List:
• Actions: Third Eye; Don't Do That; The Time Traveler;
The Major General; and Robin Hood
• Object: Plan C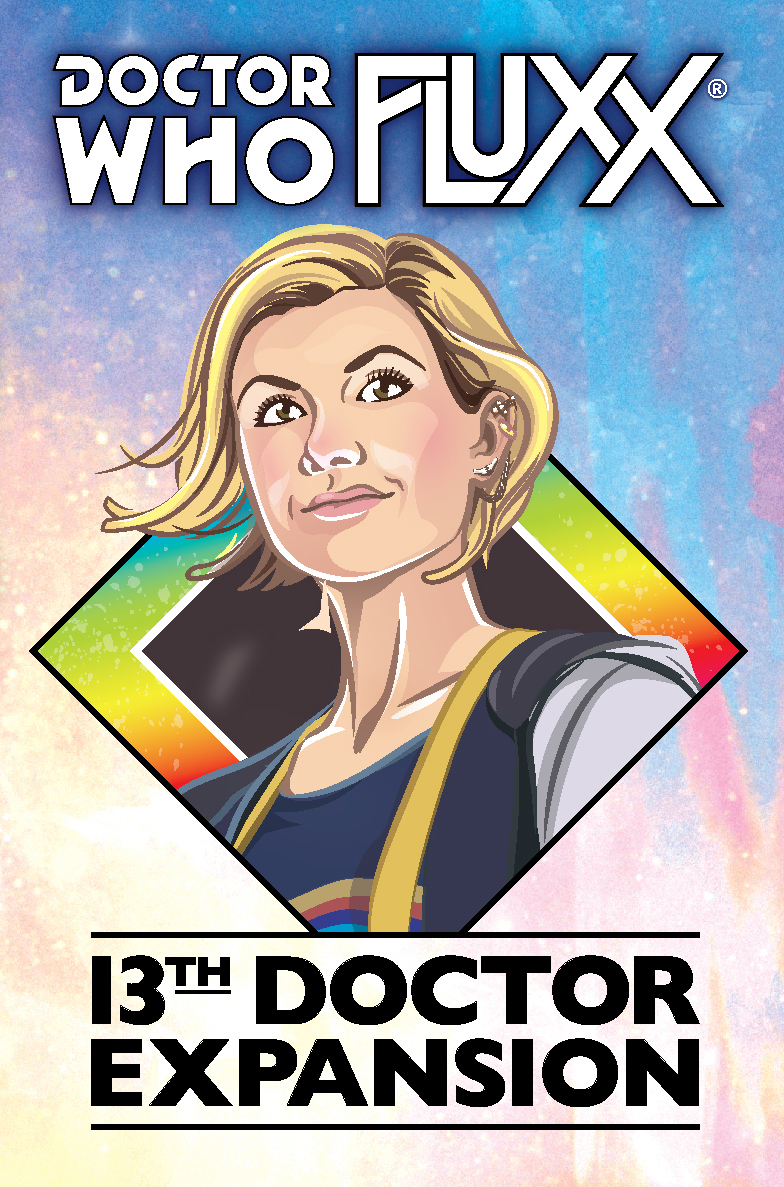 13th Doctor Expansion Pack (in stores on
November 14, 2019!)

Celebrate the Doctor's reincarnation with this expansion for Doctor Who Fluxx! This pack features the 13th Doctor herself, alongside some of her supporting characters and more.

13th Doctor Expansion Pack Card List:
• New Rule: Future Vision
• Keepers: The 13th Doctor; Ryan Sinclair; Graham O'Brien;
Yasmin Khan; and the New Sonic Screwdriver
• Goals: Twice Upon a Time; The Woman Who Fell to Earth;
The Ghost Monument; I Found the Old One!; Hi Team!
Gang?Fam??; I Miss Her Too, Granddad; and Childhood
Chums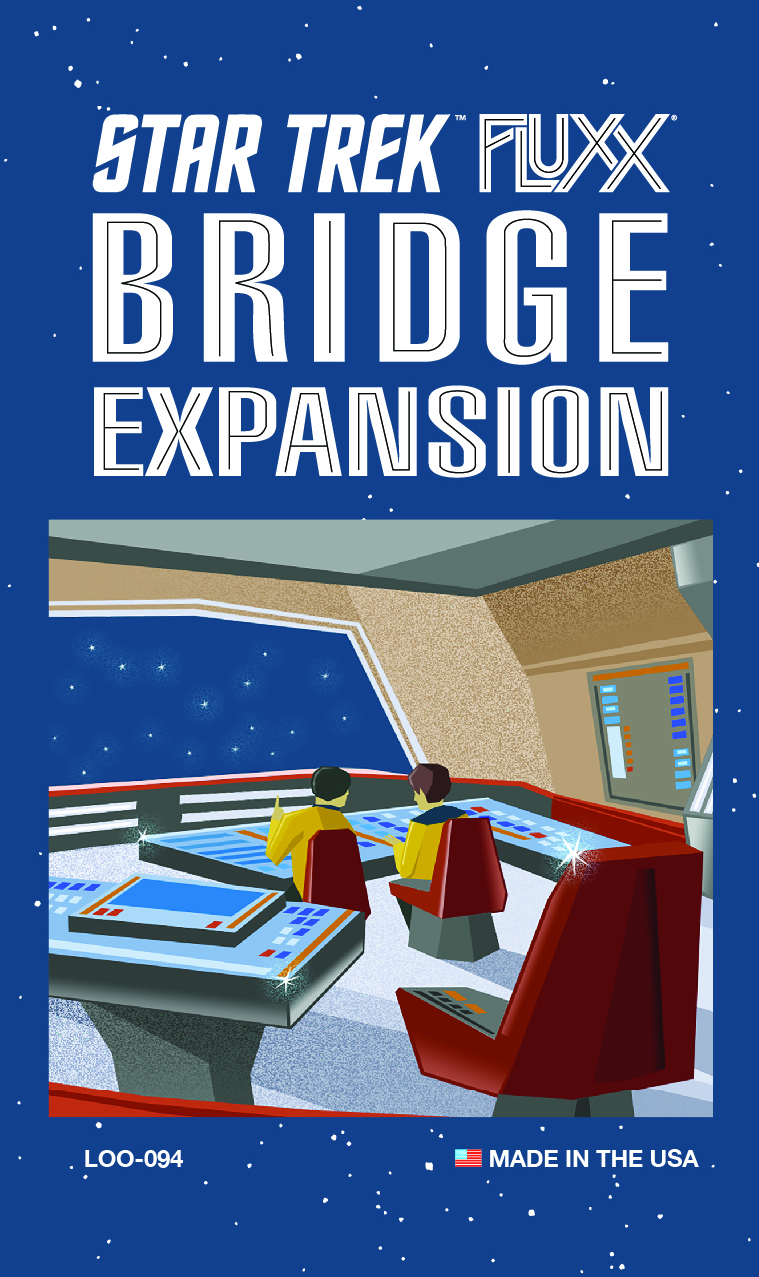 Star Trek Fluxx Bridge Expansion
Do you want to be able to shuffle your Star Trek Fluxx together with your Star Trek: TNG Fluxx? Great! We designed them to be combined! And the 12-card Bridge Pack expansion card to make it even better. The Bridge Keeper lets you take control of either Enterprise, and a host of new Goals let Kirk meet Picard, Spock meet Data, and the Past meet the Future!
Star Trek Fluxx Bridge Expansion Card List:
• MetaRule: 5 Card Mission
• Keeper: The Bridge
• Goals: Past Meets Future; Generations; Science
Officers; Engineering's Finest; Medical Geniuses; Captain
on the Bridge; Bridge of the Enterprise; Romulan
Attack; Phaser Overload; and Star Fleet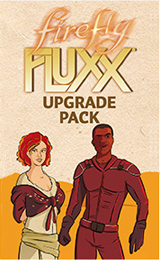 Firefly™ Fluxx Upgrade Pack

Mal's crew aren't the only ones aimin' to misbehave. Now you can add Yolanda (aka Saffron, aka Bridgett) and Jubal Early to your Firefly™ Fluxx adventures! These two new Keepers come with six new Goals that require them. Also included are new copies of the Reavers and Hands of Blue, now with upgraded abilities!

Firefly™ Fluxx Upgrade Pack Card List:
• Keepers: Yolanda and Jubal Early
• Upgraded Creepers: Hands of Blue and Reavers
• Goals: Our Mrs. Reynolds; She Knows Her Ships; What's
She Doing Here?!? (I Don't Recall Pulling Over!); I'm a
Bounty Hunter; Objects In Space; and Have You Ever Been
Shot? (See, That's What it Feels Like)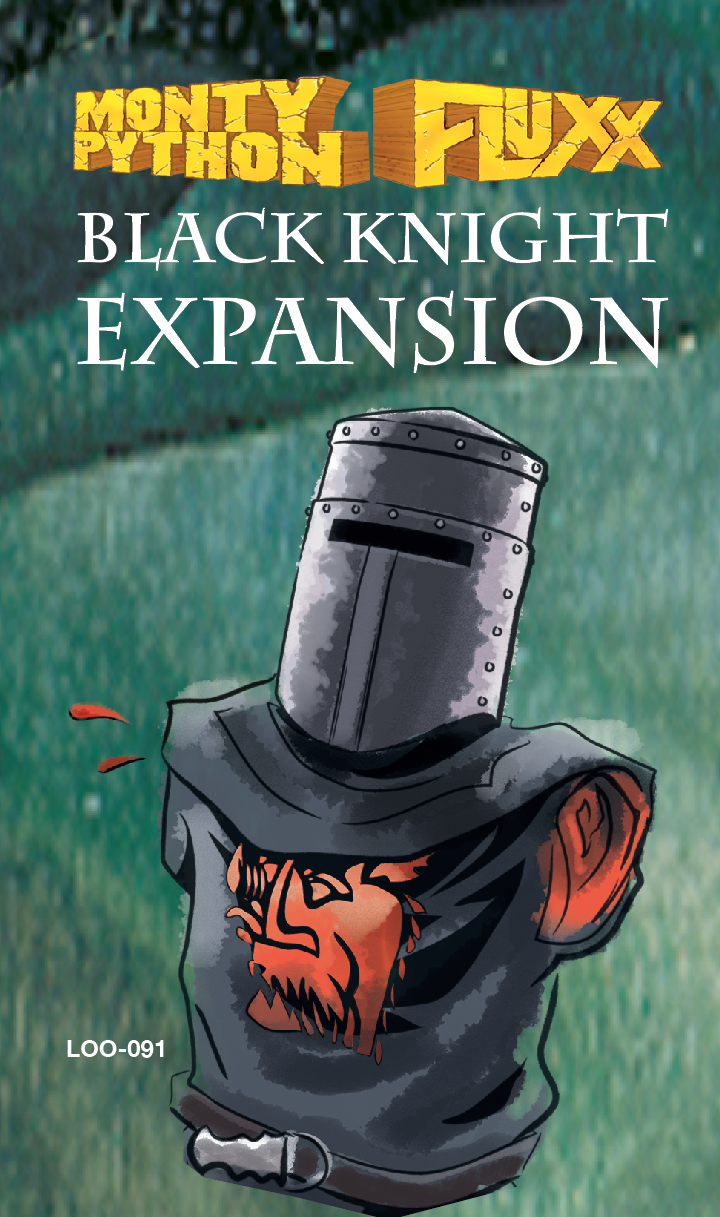 Monty Python Fluxx Black Knight Expansion
NONE SHALL PASS! Now at last the Black Knight will start making an appearance in your games of Monty Python Fluxx! This Creeper is so in-your-face that NOBODY can win if he's in play… unless, of course, one of the six new Goals in the set requires him. He's joined by another oft-missed character, Tim the Enchanter! Tim causes things to explode! This 10-card pack even includes a couple of New Rules including It's A Quest!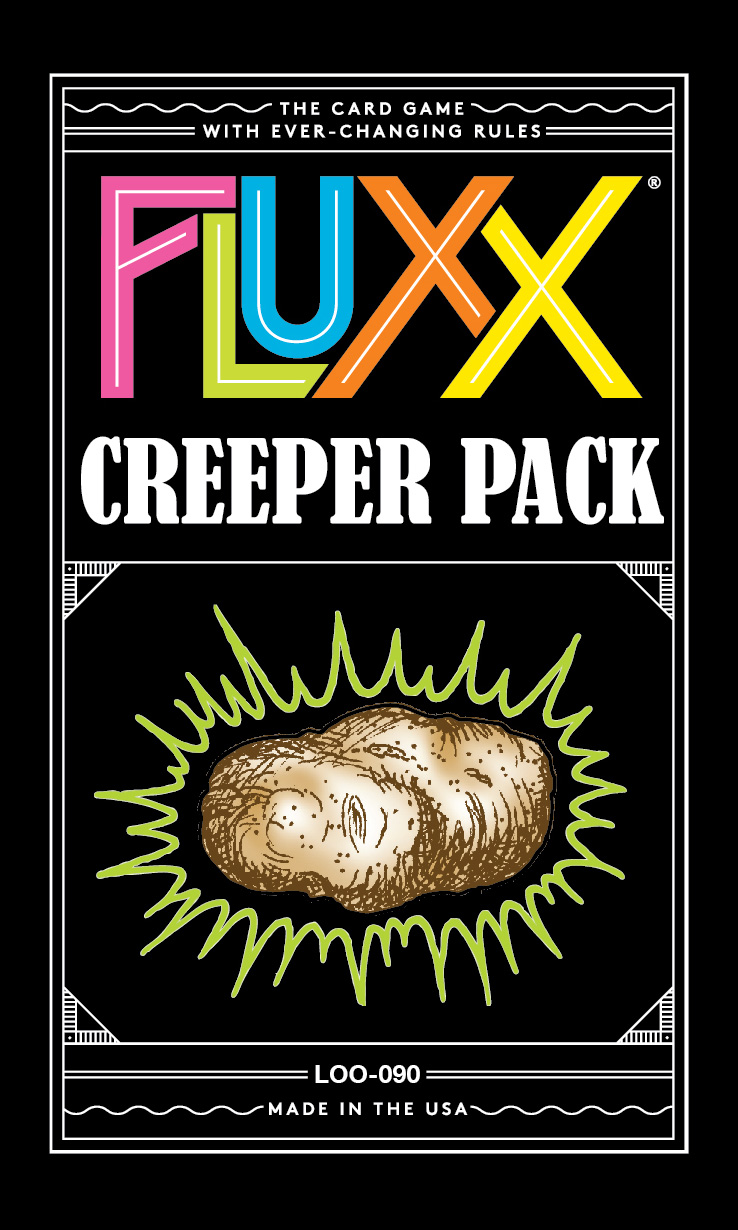 Creeper Pack
Version 4.0 of Fluxx introduced Creepers to the basic game, but these cards were dropped again when Fluxx 5.0 was published. This left War, Death, Taxes, and the beloved Radioactive Potato unavailable. But now they're back, along with Goals, Actions, and New Rules relating to these particularly intense Fluxx cards!

Creeper Pack Card List:
• New Rules: Silver Lining and You Also Need a Baked Potato
• Actions: Steal Something; Trash Something; Creeper
Sweeper; and Move a Creeper
• Creeper: War; Taxes; Death; and Radioactive Potato
• Goals: War = Death; All That Is Certain (Death & Taxes);
Death by Chocolate*; Money (No Taxes)*; Peace (No
War)*; and Your Tax Dollars at War
* Remove these Goals to play with any Fluxx game, not just Fluxx 5.0!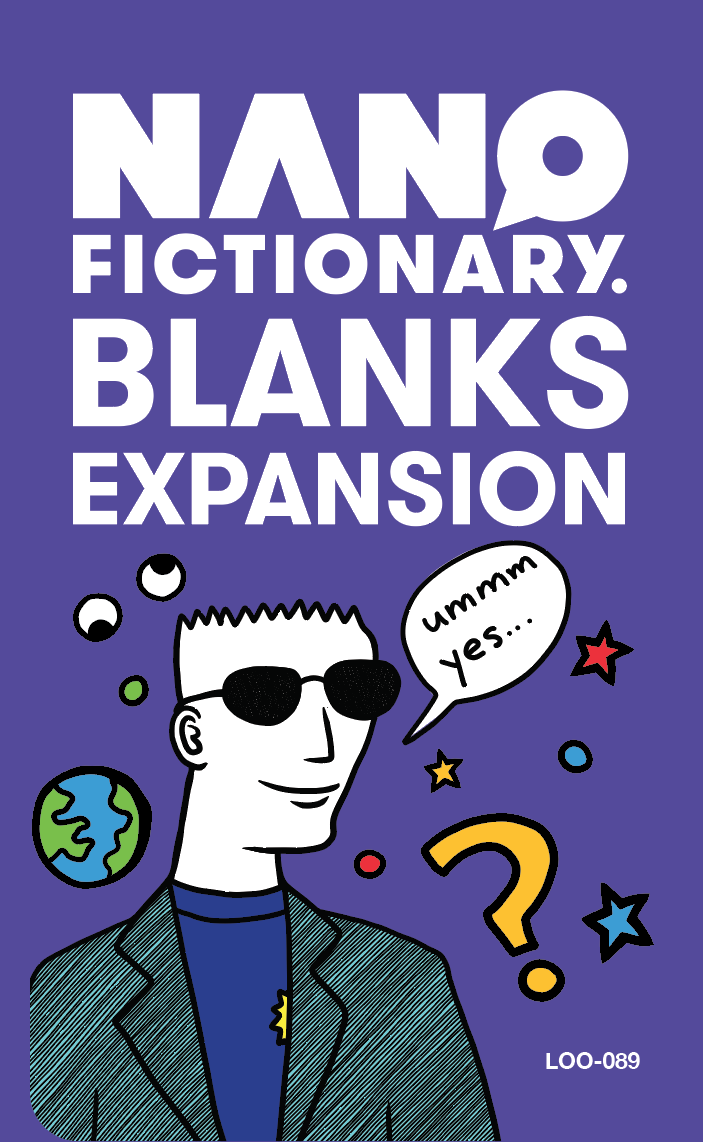 Nanofictionary Blanks
The card game of telling tiny stories is all about making up your own fun tales… so what could be better than creating your own custom cards to add into the mix? Nanofictionary was even designed to accommodate such creativity…the game was deliberately illustrated with simple, black and white line drawings so that they'd combine nicely with homemade cards and hand-doodled illustrations. Now, with these blanks and a permanent marker, you can let your imagination go wild!
This set contains three Characters, Settings, Problems, and Resolutions cards each.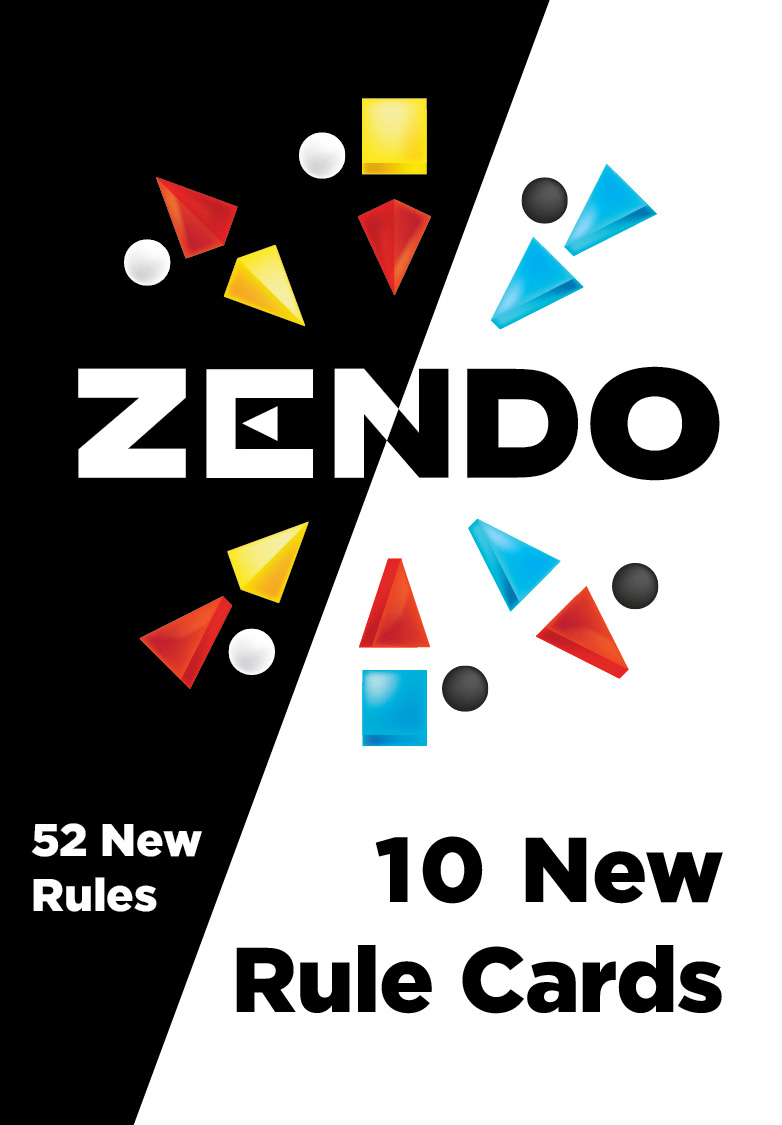 Zendo Rules Expansion #1
Zendo comes with 40 rule cards that generate over 200 unique rules. That'll keep players guessing for a long while, but when you're ready for more, here's a set of 10 all-new secret rule cards: one rated as Easy, four as Medium, and five as Difficult. These cards will generate 52 different rules, but don't let anyone read these cards until someone is ready to moderate a session. The fun is in figuring it out, so please keep the secret rules secret!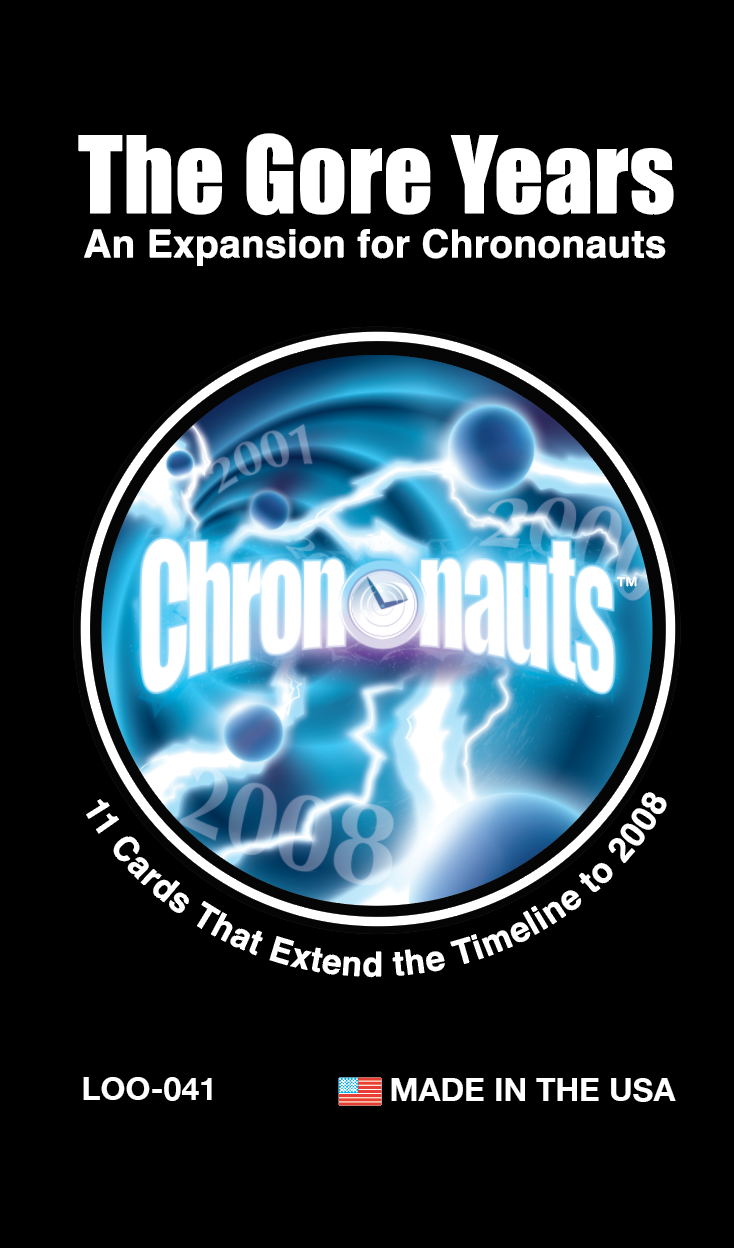 The Gore Years
The early years of the 21st century have been known as the Bush years, but to some time travelers, they were actually called the Gore years... this 11-card expansion pack brings your Chrononauts timeline up to 2008! Find out what might have happened if the 2000 election had gone a different way! Prevent the 9/11 attacks! The Gore Years has five new timeline cards, three patches, and three new Identities that depend upon the new events. Expand your travels through time!

The Gore Years Card List:
• Linchpins: George W. Bush Wins Presidency/Al Gore Wins
Presidency (2000) and World Trade Center Destroyed/
Hijackings Thwarted (2001)
• Ripplepoints: War Continues in Afghanistan (2002); Saddam
Hussein Captured (2003); and First Black President
Elected (2008)
• Patches: Statue of Liberty Destroyed (2002); Osama Bin
Laden Captured (2003); and First Female President
Elected (2008)
• IDs: Vincent; Parker; and Mick



Fluxx Blanxx

Now you can add your own zany ideas to the crazy game of Fluxx! Our most recent version of Fluxx Blanxx contains 10 cards: two Keepers, one Creeper, four Goals, one Action, one New Rule, and one Surprise. Cards are in the new style with just the stripe of color. Card backs for all Fluxx games (except for international versions) match, so you can use these in any deck. Just grab your trusty permanent marker and customize the fun!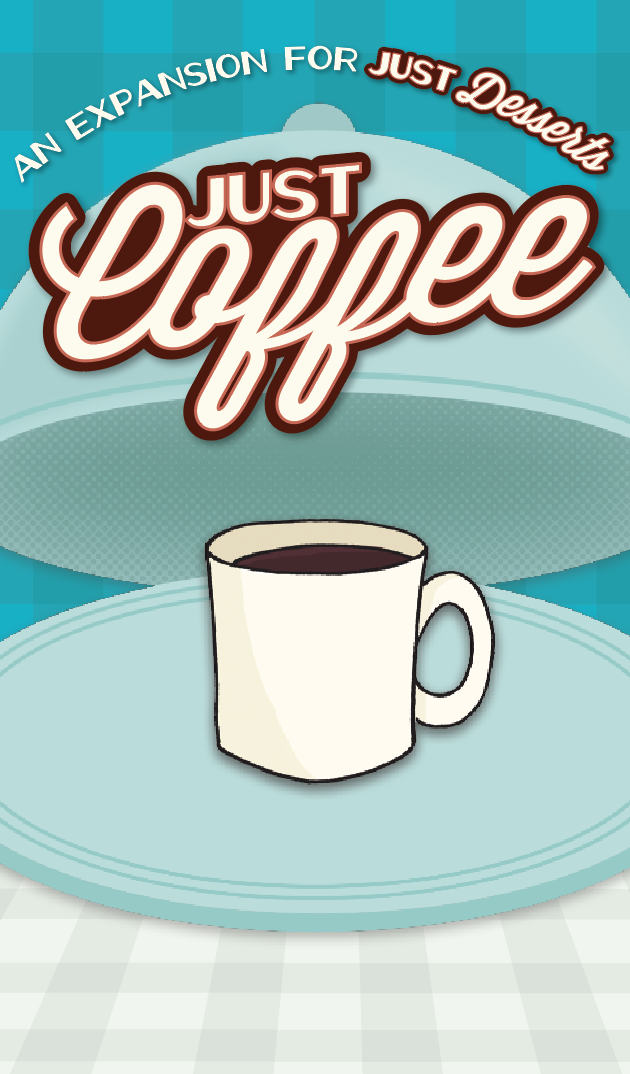 Just Coffee
Just Desserts, Looney Labs' hit game of serving sweets, amps up the energy with ten new caffeinated cards. Just Coffee features six new edibles, from Tiramisu to Chocolate Covered Espresso Beans, and four new customers including the shaky but very enthusiastic Mr. Jitters. This 10-card expansion proves that sometimes the best thing to have with your Just Desserts is Just Coffee!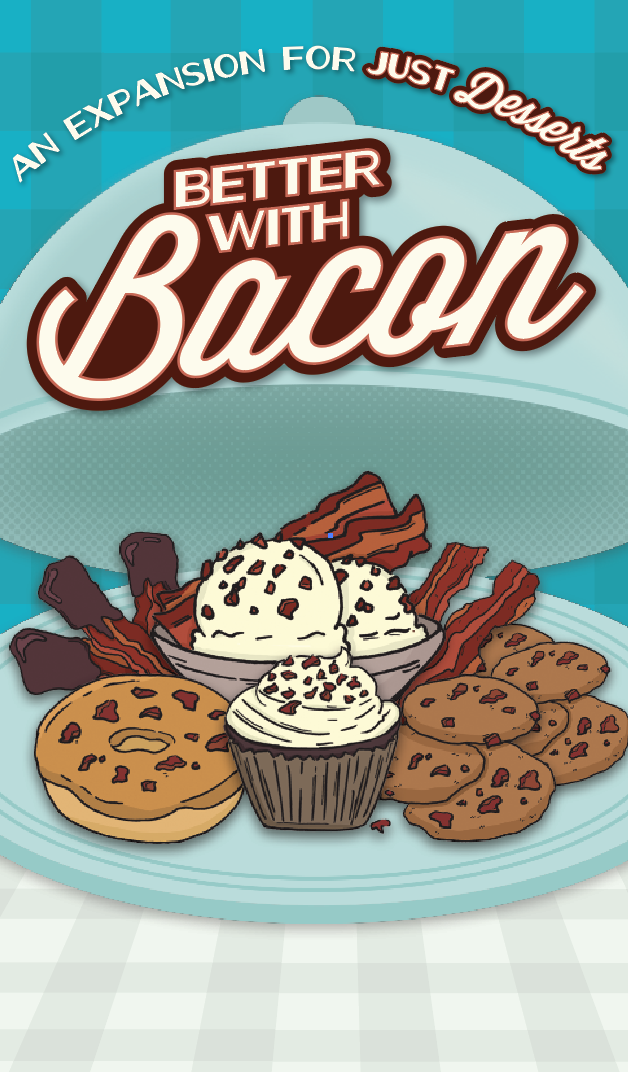 Better with Bacon
Everything is Better with Bacon, even Just Desserts! Looney Labs' hit game of serving sweets brings a little savory into the mix with this
10-card expansion pack. Better with Bacon features six new edibles (Bacon Chip Cookies, Maple Bacon Donuts, Chocolate Dipped Bacon, Bacon Ice Cream, Chocolate Bacon Cupcakes, and Candied Bacon) and four new customers (Abraham Bacon, The Vegetarian, The Farmer,
and Kevin). This expansion proves that Just Desserts is definitely
Better with Bacon!

Better with Bacon Card List:
• New Edibles: Bacon Chip Cookies; Maple Bacon Donuts;
Chocolate Dipped Bacon; Bacon Ice Cream; Chocolate Bacon
Cupcakes; and Candied Bacon
• New Characters: Abraham Bacon; The Vegetarian; The Farmer;
and Kevin
STAR TREK TM & © 2018 CBS Studios Inc. STAR TREK and related marks and logos are trademarks of CBS Studios Inc. All Rights Reserved. Firefly TM & © 2015 Twentieth Century Fox Film Corporation. All Rights Reserved. Published under license with Bravado International Group. © Monty Python TM, Python (Monty) Pictures Ltd.
---
Other Expansion Packs Not in Distribution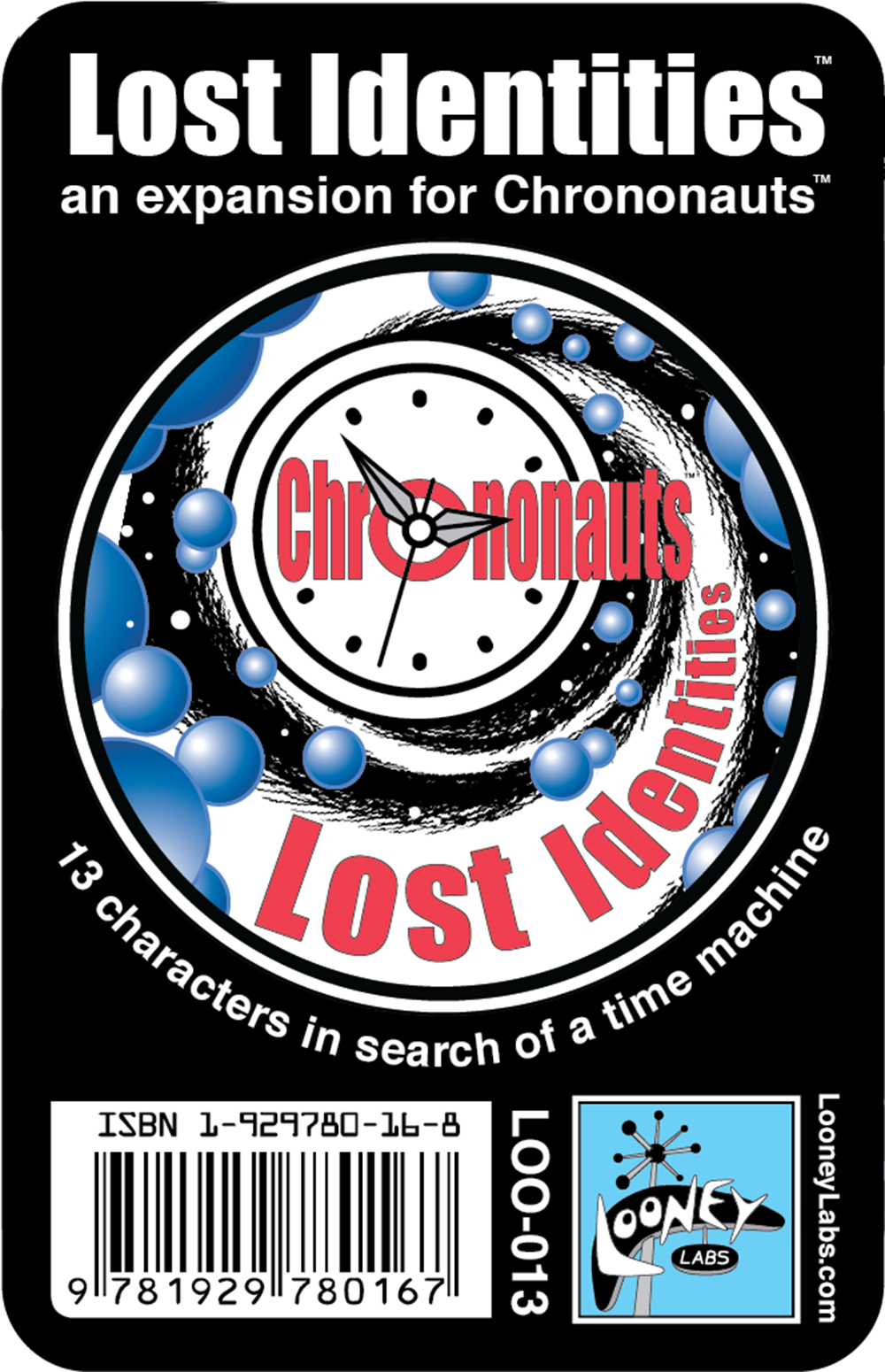 Lost Identities
This Chrononauts expansion pack contains 13 new Identity cards, plus a new Mission, to mix into your game. Now you've got to watch out for Crazy Joe, who wins with 13 paradoxes, and remember there's someone besides the Cockroach who wants WWIII! These 55-word character sketches for the new ID cards were chosen from nearly 100 fascinating fan-written entries submitted to our Nanofiction-writing contest.
Lost Identities Card List:
• IDs: Herbert; Rufus; Crazy Joe; Johnson; Mojo; Zane Reenak;
Angela; Tiberius; Walter; Isaac; Dale; Mason; and Turtle
• Mission: The Most Toys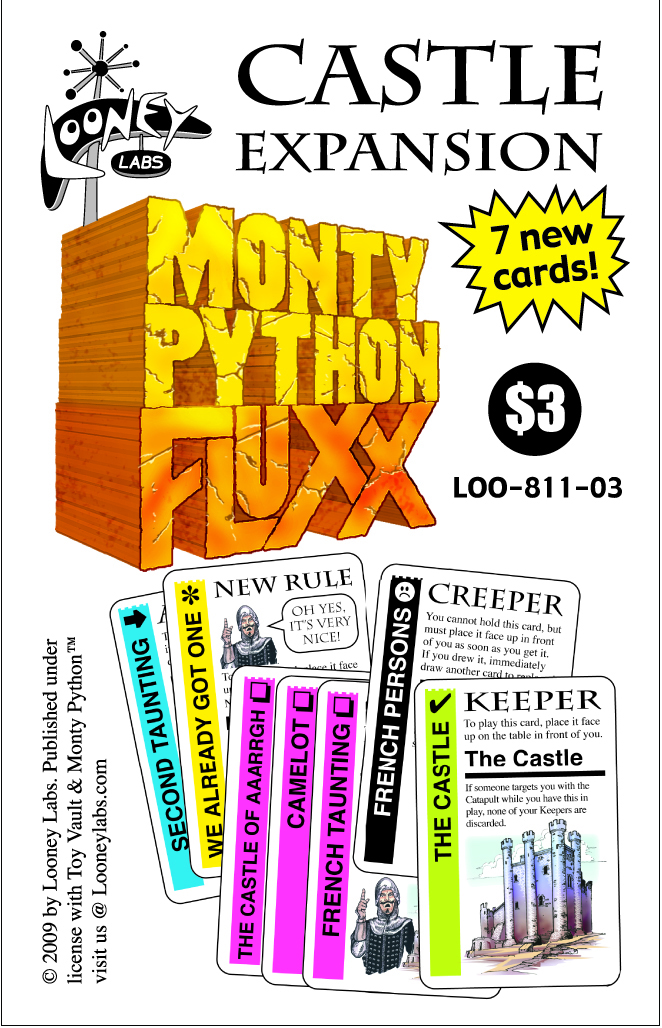 Castle Expansion

You know you've always wanted a Castle! ...Unfortunately, it also comes with a pesky French Knight, who is sure to Taunt you mercilessly. This is most certainly a must-have; seven new cards to add to the ridiculousness that is Monty Python Fluxx!

Castle Expansion Card List:
• New Rule: We Already Got One
• Action: Second Taunting
• Keeper: The Castle
• Creeper: French Persons
• Goals: The Castle of Aaarrgh; French Taunting; and
Camelot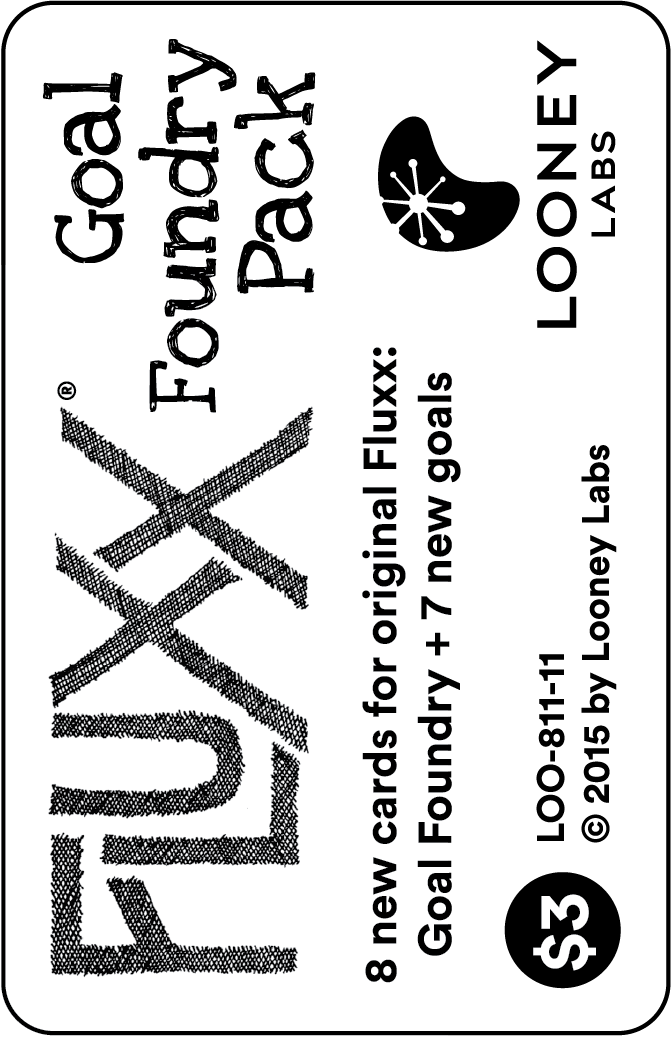 Goal Foundry Pack
This is a pack of seven new goals for the unthemed Fluxx versions 5.0, 4.0, and SE. The card style matches 5.0 and the second run of SE, but the Keeper art matches 5.0 and 4.0. It also includes a new Meta Rule (rule which stays in effect for the whole game) called Goal Foundry. This essentially makes the New Rule Goal Mill permanent to the game... which you're going to need with seven extra Goals in your deck!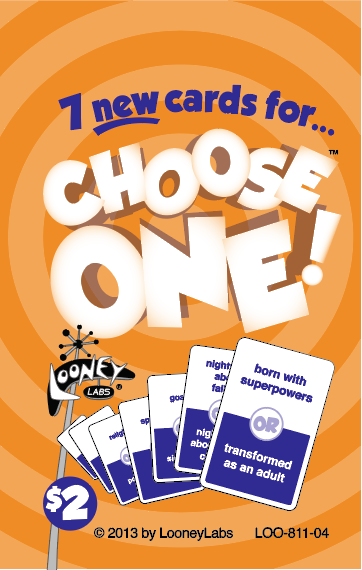 Choose One Pack
This is a pack of seven extra cards to add to your Choose One game. It's great for handing out to people to give them an idea of how the game plays, or as a stocking stuffer or small gift for someone who already has the main game!

Choose One Promo Pack Card List:
• Bert or Ernie; Spinach or Broccoli; Born with Superpowers or
Transformed as an Adult; Kirk or Picard; Religion or Politics;
Goatee or Sideburns; and Nightmare About Falling or Nightmare
About Being Chased