 Timelock
You're an agent of the Time Repair Agency, racing to create a Timelock to stop an alternate reality version of yourself from taking your place in this continuum. A semi-abstract strategy game of matchings stacks of pyramids before the Goal changes again.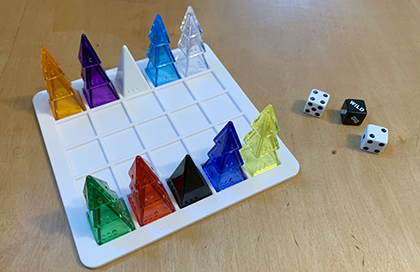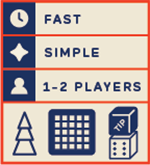 Stuff You Need To Play:
1 Trio each of 10 different colors
(in a pinch 2 Trios each of 5 different colors)
Volcano Board (5x5 grid)
1 Treehouse die, 2 six-sided dice
Publication History
This game is mentioned in the back of the Pyramid Arcade rulebook, on the list of "22 Other Great Games" recommended by the pyramid community.
Other Notes
No PDF is available, but rules can be found online at the icehousegames wiki link above.