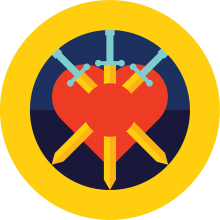 Gnostica
A territory-based war game. Tarot cards create the gameboard and give players special powers.
Designer:
John Cooper with Jake Davenport, Kory Heath, and Kristin Matherly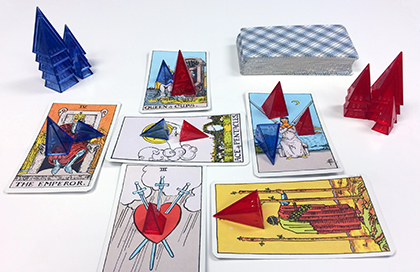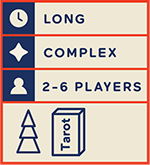 Stuff You Need To Play:
5 Trios of a color for each player
A Tarot deck
Publication History
The earliest version of this game was published in 1996, in More Icehouse Games, with the name Arcana.
The name became Zarcana when the game was featured in 1999's Icehouse: The Martian Chess Set.

After experimenting with numerous rules variations, a new version of the game emerged and was given the new name Gnostica.

Rules for

Gnostica

first appeared in issue #14 of Hypothermia, July 2001

.

Gnostica

was featured in Playing with Pyramids, published in 2002.
Gnostica is mentioned in the back of the Pyramid Arcade rulebook, on the list of "22 Other Great Games" recommended by the pyramid community.
Gnostica is one of 12 games for which special cards were created during the Pyramid Arcade Kickstarter campaign.
A custom card deck for Gnostica is available at the Game Crafter.
Other Notes