Looney Labs is a Friendly Little Game Company
We publish the FLUXX series of card games... it has that certain something that makes a game addictive — when it ends, you want to play again immediately, even if you lost! Fluxx (and its various special editions) is the company's best known product, but we have published many other award-winning games that are just as addictive. OUR GAMES include time travel card games and board games featuring LOONEY PYRAMIDS, innovative pyramid-shaped gaming pieces useful for hundreds of different games.

Looney Labs Games are well distributed in specialty game stores. Visit our STORE LOCATOR to find the store nearest you that sells our games, or you can also buy directly from our ONLINE STORE.
If you want to sell our games, visit our RETAILER pages.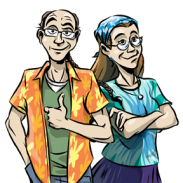 The company was founded in 1996 by Kristin and Andrew
Looney, a husband and wife team that gave up successful
careers as aerospace engineers (they met while working at
NASA) to pursue their hobby business full time... they could
tell early on the true hit potential this little card game Fluxx
had, so they took the jump off the cliff and quit their day jobs,
so they could dedicate all their energy to making and
promoting Andy's games. You can read about OUR HISTORY
on these pages, and for even more details, you can poke
around in the archives of our BLOGS — we have been
creating cool stuff and talking about it online since the very
enjoy your journey through our many web pages.


OUR MISSION is "To Create Fun." But it isn't just that we make fun games... our games create fun times! The fun we have in making them, the fun you have in playing them, and the fun our retailers and demo team have in selling and promoting them. Thank you to all our fans for helping us make our dreams come true — for helping us build and grow our little game company! This includes so many fans… from the members of our FAN CLUB who jabber enthusiastically about how fun our games are, to fans who have helped us promote our games at stores and conventions, and those fans who have become INVESTORS and helped us fund this adventure. Our retailers, our suppliers, our printing and fullfillment partners... so many wonderful people have helped us build this little game company of ours — please know how much we appreciate your friendship and your business!

And of course... we couldn't do any of this without our team of amazing employees. We have six full time employees, working out of an office in College Park, MD. CONTACT US if you have any questions or need help with anything regarding our company or our games. Looney Labs is a family owned and operated business — a friendly little game company... and we create fun!
Kristin Looney (CEO, President, and Business Czar)

Kristin is the primary founder and president of Looney Labs, and is the driving force behind the company. She focuses her time on the marketing and fan outreach efforts of the company. Prior to starting Looney Labs, Kristin spent 13 years working in the aerospace industry, first as an Electronics Engineer at NASA, then later as the Manager of the IT department for a start-up company called TSI-TelSys. She attended college first in her home state of Illinois, later graduating from the University of Maryland with a BS in Computer Science in 1987.
Andrew Looney (Chief Creative Officer)

Andy is the company's Chief Creative Officer and is the inventor of most of the products that they sell. Before helping Kristin start Looney Labs, Andy was a computer programmer, first spending eight years at NASA (he wrote software that flew in space on the Hubble Telescope in 1993), then spending two years working for Magnet Interactive Studios (where he created and coded a videogame called Icebreaker, published in 1995). Andy graduated from the University of Maryland in 1986, with a BS in Computer Science.
Laurie Menke (Director of Sales and Marketing)

Laurie has been a Looney Labs Demo Tech since 2003, and has worked for the Looney household since January 2014. She officially started working for Looney Labs in January 2016. She has a BA in Psychology and a teaching credential. In addition to 28 years of experience in the education field, she has eight years of experience in office administration, data management, and event planning, and owned a successful small business for nine years.
Laura Martin (Operations Specialist)

Laura Martin joined Looney Labs in March 2022 as our new Operations Specialist. Laura brings 30 years of experience with managing data, processes and departments. Together with her husband, Laura also owns and operates a board game store, The Wandering Dragon Game Shoppe, in Plainfield Illinois.
David Olsher (Sales Specialist)

David joined the Looney Labs team in April of 2023, with a goal of helping the Friendly Little Gaming Company become slightly less Little and even more Friendly! David received his BA in Theatre Arts and has worn many varied hats (and sometimes odder things) in the fields of arts administration, event production, higher education, sales, and theatre. He lives with a very attention-hungry cat who is trying to help him type this.
Alison Frane (Head Factotum and Customer Service Manager)

Alison helped build and run the company part time for 4 years before starting as a full time employee in early 2004. As her title suggests (Factotum = an employee or assistant who serves in a wide range of capacities) she works hard for whatever department needs her most. She currently spends most of her time in Customer Service, but can also be found helping out with various art and design and marketing activities.
Morgan Nakroshis (Graphic Design and Product Development)

Morgan joined the Looney Labs team in June of 2018, and spends her time at work making graphics and over-obsessing over spacing and alignment (much to Andy's chagrin). Morgan received her AA in 2015, and developed her self-taught graphic design chops working on a literary magazine in college. She has worked previously in medical administration, as a bartender and as a horseback riding instructor, and lives with her three roommates, two cats, and two dogs, in a house much too small for the eight of them.