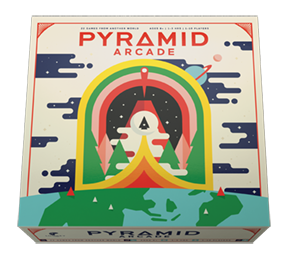 Pyramid Arcade changes everything...
... so the content of this page (below) is now obsolete. We have not deleted it yet, as we are still working with the community of Starship Captains to figure out how rules to other pyramid games can best be shared and presented. Please visit the new page, Other Pyramid Games, which is discussed on pages 71-73 of the rulebook that comes in Pyramid Arcade.
---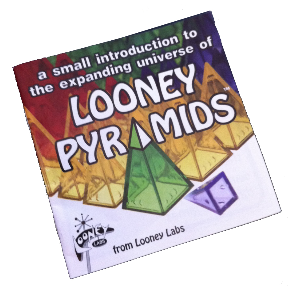 Beyond the 13 games found in the Pocket Guide to Looney Pyramids
... there are literally 100's of amazing games you can play with Looney Pyramids!
So far, rules pages and PDFs have been built for:
Zendo, Twin Win, Pyramid Shambo, Lunar Invaders and
Nothing Beats a Large
Visit ICEHOUSEGAMES.ORG for over 300 fan designed pyramid games!
---
Andy and many of the active Starship Captains are hard at work converting the rules to the best of the pyramid games to our new rules format, so the list on this page will continue to grow. To get your pyramid game listed on this page you must do the following: 1) format your rules (with one of these templates: PDF or ai, indd) or by asking for help from other Starship Captains if you don't have layout tools, 2) post your rules PDF in a new thread in the Starship Captains forum asking for review/approval, 3) tweak your rules sheet until the community of players/designers is satisfied that they are ready. When ten (10) Starship Captains have given your game a thumbs up, saying it is ready to be published on this page, we will make a rules page for your game here on this web site!