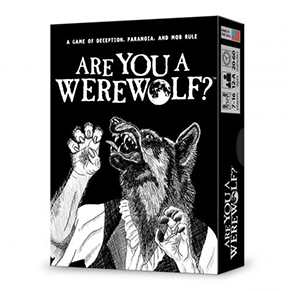 Are you a Werewolf?
A Game of Deception, Paranoia, and Mob Rule
A vengeful group of villagers must figure out who among them is a werewolf (before it's too late...) Are You A Werewolf? is a deception party game for 7-15 players. Players are assigned roles secretly. Most players are Villagers, two or three will be Werewolves.
The Villagers try to figure out who the werewolves are during the day, and the Werewolves eat the Villagers at night.
Game Play
This is a very unusual game. Each player is randomly assigned a secret identity, and then the group sits around and talks to each other trying to figure out which players are the werewolves. The villagers are trying to figure out who's a werewolf; the werewolves are pretending to be villagers, and trying to throw suspicion on real villagers. A moderator helps to keep the action going... read the Rules Sheet for more information.
Reviews