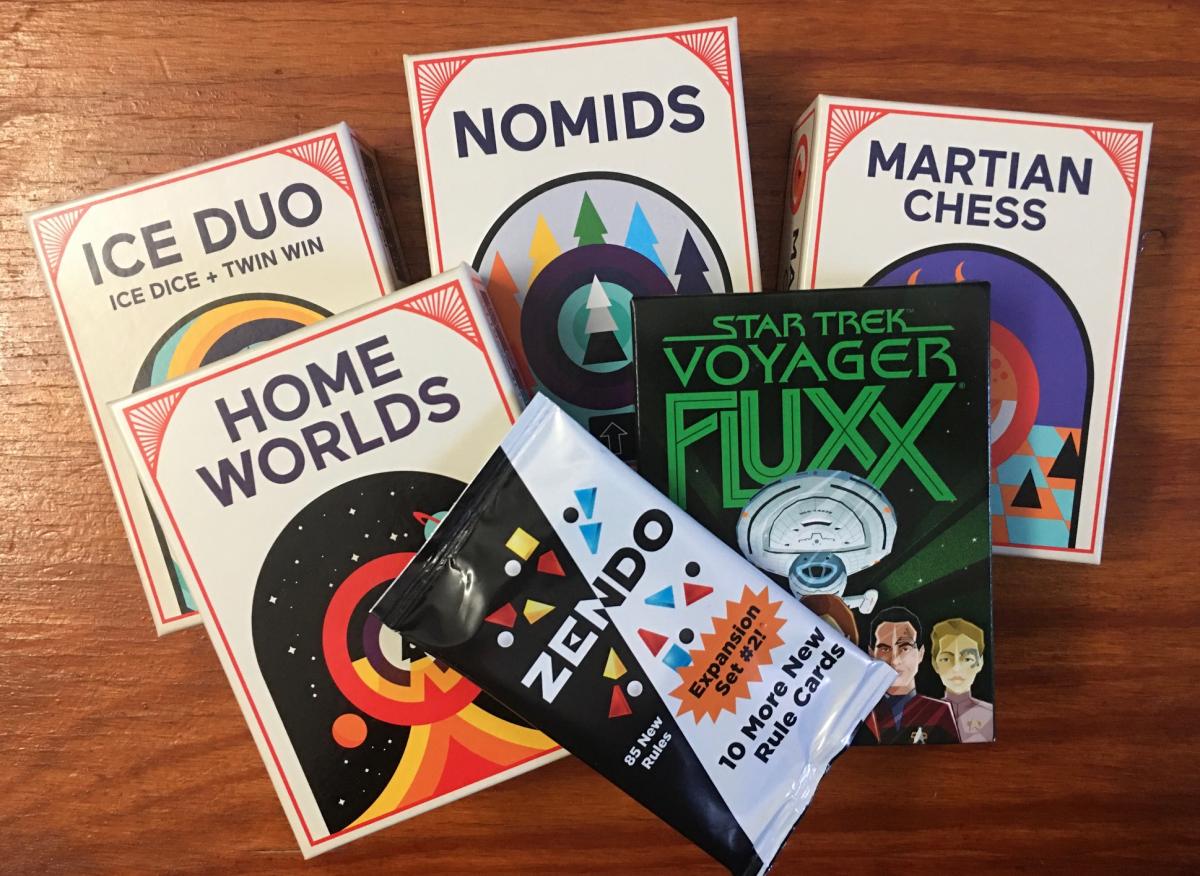 We are excited to confirm that SIX new products from Looney Labs will be arriving in November, just in time for holiday gift-giving!
Nomids • Ice Duo • Martian Chess • Homeworlds
Star Trek: Voyager Fluxx • 2nd Zendo Expansion
Please keep these great games and the rest of our line in mind when you're making out your holiday shopping list. With over 40 games costing just $15-$20, we're sure to have something for everyone, bringing fun and laughter all year long.
Star Trek: Voyager Fluxx is the fourth in the Star Trek Fluxx series and has been greatly anticipated by Voyager fans everywhere. Be sure to check out the Original Series, Next Generation, and Deep Space Nine versions as well. And for that Star Trek super-fan, there's Star Trek: Chrono-Trek, the time travel game that covers the entire Star Trek universe. But for now, have a cup of coffee with Captain Janeway, learn to be a human with Seven of Nine, and raise some morale with Neelix while playing a game of Star Trek: Voyager Fluxx!
Or perhaps you prefer something brainy rather than zany? We've got you covered. Zendo Rules Expansion #2 is filled with 85 new rules, mostly in the "difficult" realm, for Zendo fans to sink their teeth into!
But wait! There's more! We are also totally in love with our four new little travel-sized boxes of Looney Pyramids games. Nomids is rated a 1 difficulty and is the newest pyramid game invented by Andrew Looney. Then comes Ice Duo, with two different level 2 games--one a fun bit of press-your-luck and one a hidden goals gem. For more of a challenge, at difficulty level 3, we have Martian Chess with a new opaque Martian Red pyramid color. And at the most difficult 4 rating is Homeworlds, a deep strategy game that is taking the abstract strategy world by storm. Each of these boxes is just $20 and includes enough pyramids to play several other games in the system as well. What's more, they are washable and show up well on Zoom chats for play during times of isolation.