Star Trek: DS9 Fluxx
The DS9 Edition of the Ever-Changing Card Game!

Explore the farthest reaches of the universe in Star Trek: Deep Space Nine Fluxx! Work alongside Benjamin Sisko, Quark, Jadzia Dax, Worf and all your other favorite space station personnel while you try to gather Gold-Pressed Latinum and study the Wormhole, but watch out for nasty Surprises and Creepers like the Founders and the Jem'Hadar!
TM & © 2019 CBS Studios Inc. STAR TREK and related marks and logos are
trademarks of CBS Studios Inc. All Rights Reserved.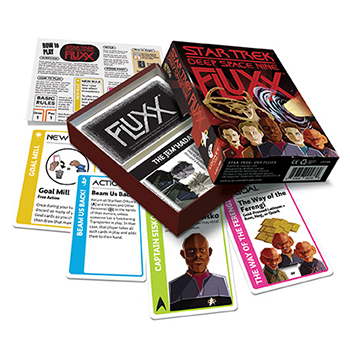 Game Play
It all begins with one basic rule: Draw one card, play one card. You start with a hand of three cards, add the card you drew to your hand, and then choose one card to play, following the directions written on your chosen card. As cards are drawn and played from the deck, the rules of the game change from how many cards are drawn, played, or even how many cards you can hold at the end of your turn.
Reviews