This page dates back to a previous edition of our Looney Pyramids, when everying was DIY, and you needed to buy pyramids and rules and varous accessories seperately. In 2016 Looney Labs published PYRAMID ARCADE - with everything you need to play 22 games all in one box!
Also see: Cadet Training • Starship Captain Search • Membership Cards
(Download: Welcome, How-To, Guidelines, Tracking, Event Flyer - plus a PocketMod version of the Syllabus)
This kit will give you everything you need to run a series of really fun Cadet Training events for our pyramids...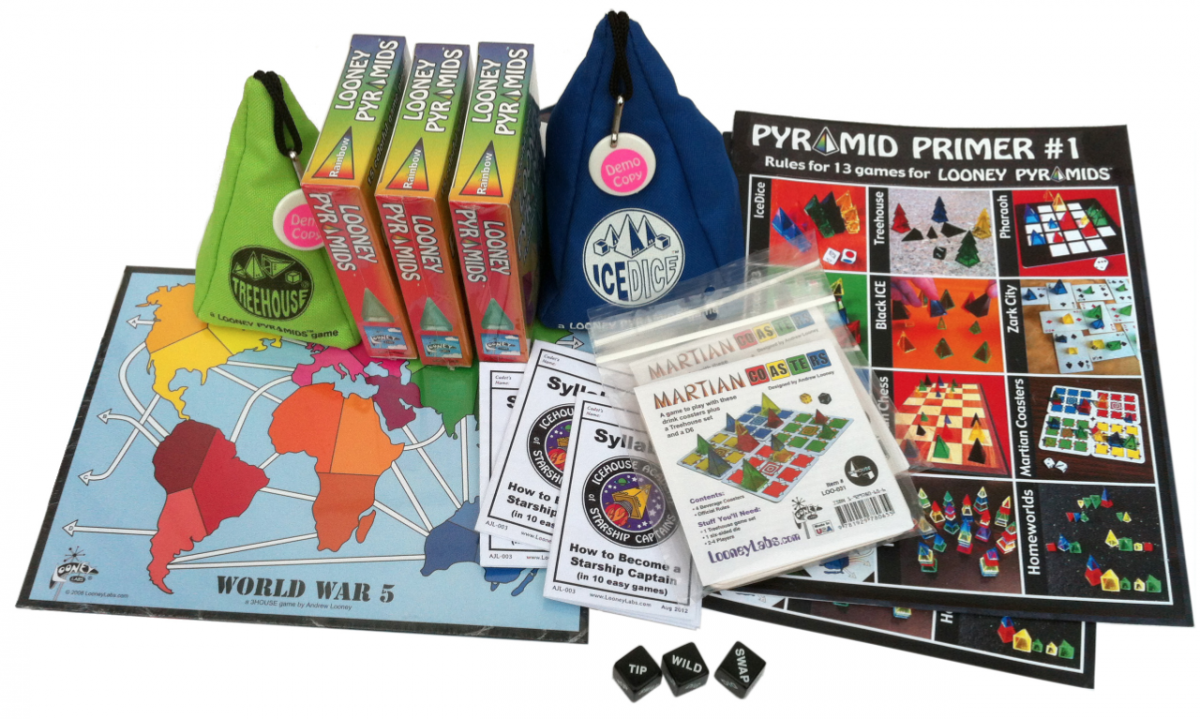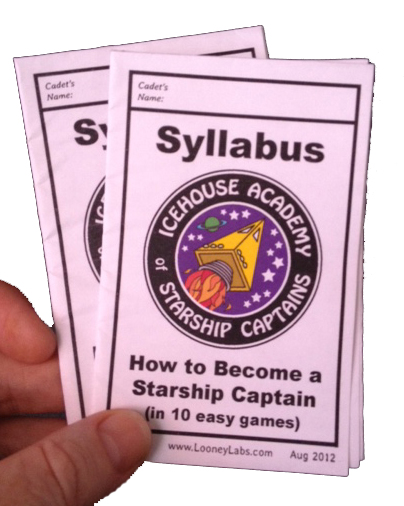 What is Cadet Training?
There are two games each in the products IceDice and Treehouse, and another nine games (13 total) are promoted in the Guide to Looney Pyramids booklet that comes with these products. If you learn ten games you can call yourself a Starship Captain!
The Cadet Training Syllabus gives each participant a place to track the games they have learned so far as they work towards the goal of learning ten games and becoming a Starship Captain. Prizes are provided with the kit so each Cadet Training session can end with one of the participants being awarded a prize!

The Kit Contains:
Q: I already own a lot of pyramids... can I buy the kit without the pyramids?
A: Sorry, you can't buy the kit without pyramids. If you are helping your local game store run Cadet Training, the store can buy the kit, and you can use their kit in the store and leave your personal pyramids at home. If you want to run Cadet Training with friends using your own pyramids you can download the instruction sheets and buy just the Syllabus and Pyramid Primer. Download: Welcome, How to Run Icehouse Academy Training Sessions, Guidelines for Game Technicians, and Cadet Tracking Sheet - you can order the 20-pack of Syllabus booklets and a 10-pack of Pyramid Primer #1 from the Game Tech store.