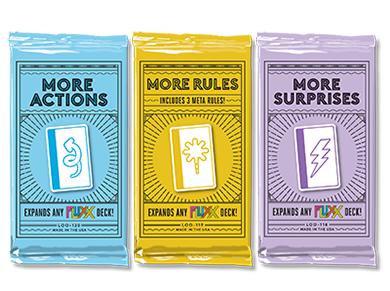 The More Packs
Three new expansions for any Fluxx deck!


Three new packs that you can add to any Fluxx deck! The More Rules expansion includes 13 cards – 10 fun, lesser-seen New Rules, plus 3 Meta Rule cards; the More Actions expansion includes 10 powerful fan faves that will spice up any Fluxx game; and the More Surprises expansion includes 10 cards – the 4 original Surprises, 4 rarer ones, and 2 all-new cards.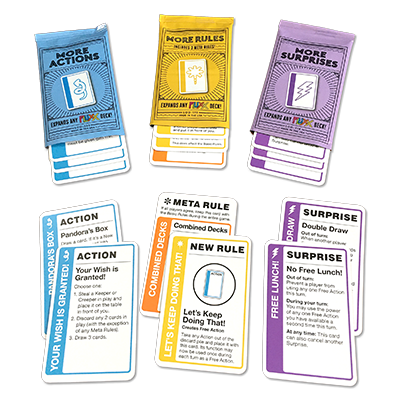 Game Play

These packs are not standalone games, they work with any Fluxx...

Fluxx begins with one basic rule: Draw one card, play one card. You start with a hand of three cards, add the card you drew to your hand, and then choose one card to play, following the directions written on your chosen card. As cards are drawn and played from the deck, the rules of the game change from how many cards are drawn, played, or even how many cards you can hold at the end of your turn.
All game rulesheets can be found here.
Reviews