Social Media Contests : None Currently
---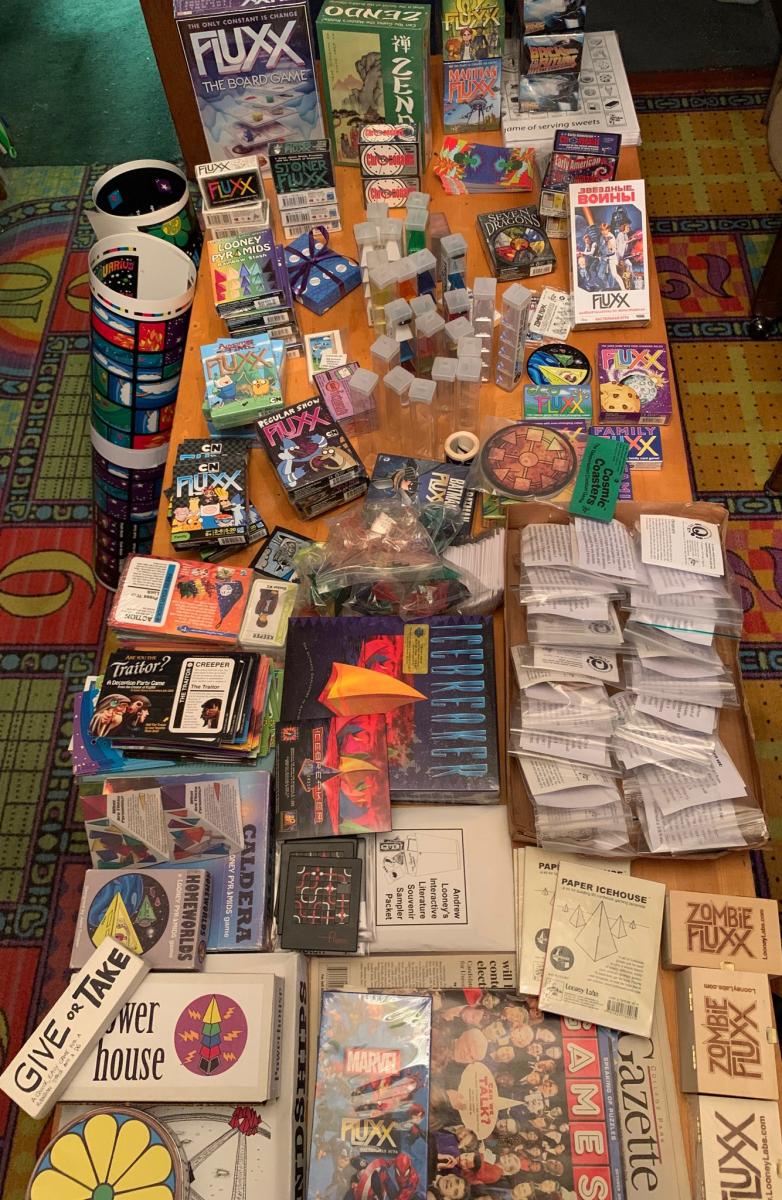 Looney Labs Rare Items Raffle
We have a table piled high with rare items from Looney Labs history that we will be giving away over the course of this anniversary year. Out of print games, interestingly colored pyramids, uncut sheets of Aquarius cards, various promo cards, Andy's old LARP equipment... all sorts of fun stuff.
Raffle #1 (of 4) is underway!
SIGN UP for a free GLEAM account to track your tickets. There are over 75 tasks you can complete this quarter to earn raffle tickets, and some can be done multiple times for multiple tickets! The tasks are things that will help us promote Looney Labs and our games, and the more tasks you do, the more raffle tickets you earn. There is no way to purchase raffle tickets.
3/15/21 - last day to complete tasks this quarter
3/17/21 - email with bucket placement instructions sent
3/28/21 - last day to adjust ticket placement in buckets
3/31/21 - winners will be randomly selected and notified
4/08/21 - raffle #2 begins (sorry... we got delayed by a few days from the original plan)
What's a bucket raffle, you ask? It is a raffle version in which you get to decide which prize(s) your raffle ticket(s) try to win for you. This first round will have 25 buckets, which will be announced and promoted throughout the quarter in posts on Facebook, Twitter, and Instagram - and will be posted in the chart below as they become known.
Congratulations to all who won a prize! You will be receiving an email confirmation shortly and your prizes will be shipped in the next two weeks. For those who did not win this round, another round will start on Sunday!
IMPORTANT MESSAGE: It has come to our attention that an error occurred during the prize draws. We have double, triple, and quadruple checked and are certain this error only affected one bucket--the Electric Yellow Pyramids. All tickets earned were reported correctly, all other bucket winners were reported correctly, but a shift occurred in the spreadsheet just before we drew the electric yellow winners which caused 14 peoples' tickets to get shifted to other people's rows. We are very sorry for this error and very thankful to Isaac Arellano for his honesty in pointing out that he hadn't put any tickets in electric yellow so couldn't have won. This led to the detection and correction of the error. For that help, we are going to send Isaac a box of chocolates (the bucket he put all his tickets in).
We are also going to let the other four reported electric yellow winners (who did have tickets in that bucket) keep those electric yellows, and add four additional sets to ensure that the five who were the rightful winners also get their prizes. So you will see that the total number of prizes increased to 75, with electric yellow going from 5 to 9 and chocolates going from 1 to 2. We hope this satisfies all participants that we have correctly handled the problem, and we apologize for the error!
Bucket #
DESCRIPTION OF PRIZE
# of Winners
IMAGE
TICKETS


FINAL 3/31

WINNERS
01

A complete copy of a local paper from 1999, with a cover story about Looneys. It's a great article, and there are all sorts of fun throwbacks to 22 years ago!

1

10

Matt Warwick

02

The calendar is correct again in 2021... mostly! These are the plain (ash) versions of the shirt, size XL. Lots of info about these shirts on these webpages from 1999.

3

32

Eric Liscinsky,

Giora Meyerowitz,

Virginia Hendricks

03

Tie dyed Y2K T-shirts from 1999

The calendar is correct again in 2021... mostly! These are the tie-dyed versions of the shirt, size XL. Lots of info about these shirts on these webpages from 1999.

3

95

Elizabeth Allen (x2),

Michael Smith

04

Before there was Pyramid Arcade or the cloth bags, there were Treehouse sets! Bucket 4 contains the Rainbow version... 1 trio each of red, yellow, green, blue, & black, plus a Treehouse Die, and a tiny folded copy of the rules for the game, all in a plastic tube.

2

96

Bill Johnson,

Renate Cloake

05

Before there was Pyramid Arcade or the cloth bags, there were Treehouse sets! Bucket 5 contains the Xeno version... 1 trio each of clear, cyan, purple, orange, & white, plus a Treehouse Die, and a tiny folded copy of the rules for the game, all in a plastic tube.

2

92

Glenn Jingleman (x2)

06

This is a full 15-pyramid stash of these neon yellow pyramids that were the result of a printing error long ago.

9

646

Kirk K Rich,

Matt Fields,

Michael Fogus,

Mike Whittaker,

Chris Brightwell, Jonathan Baker (x2), Kat Costa (x2)

07

Seven Dragons is finally being re-released, but very little is being changed. (The only change for the new version is that the green dragon-rider will have a slightly less revealing dress.) So this one is really meant for the collectors!

1

397

Jesse D Perez

08

Oz Fluxx is finally being re-released, and the cards have been updated to use the new format. For collectors looking for the original version, here it is!

9

325

Christopher Bergtholdt,

Karen Bryan,

Kent Slocum,

Laura Moore,

Lydia Leach,

Matt Warwick,

Ryan Stapleton,

Sara Morris, James Wilson

09

Martian Fluxx is finally being re-released, and the cards have been updated to use the new format. For collectors looking for the original version, here it is!

7

281

Chris Rio,

Diana Sharpe,

Jeremy Stern,

Kendra W Pulsifer-Griep,

Matthew Burke,

Robert Tilley,

Victoria Prejean

10

This is a classic 15-pyramid stash of "Icehouse Pieces," with clear pieces, packaged as they used to be, in a clear plastic tube.

2

52

Alana Phelan,

Kirk K Rich

11

This is a classic 15-pyramid stash of "Icehouse Pieces," with blue pieces, packaged as they used to be, in a clear plastic tube.

1

37

Dessie Hershey

12

This is a classic 15-pyramid stash of "Icehouse Pieces," with green pieces, packaged as they used to be, in a clear plastic tube.

2

34

Randall Reed,

Stephen Swarner

13

This is a classic 15-pyramid stash of "Icehouse Pieces," with orange pieces, packaged as they used to be, in a clear plastic tube.

1

41

Mary DeMarco

14

This is a classic 15-pyramid stash of "Icehouse Pieces," with white pieces, packaged as they used to be, in a clear plastic tube.

3

53

Alana Phelan,

Stephen Swarner,

Will Matthews

15

This is a classic 15-pyramid stash of "Icehouse Pieces," with yellow pieces, packaged as they used to be, in a clear plastic tube.

1

19

Kirk K Rich

16

This is a box containing 24 chocolate marbles. The Looneys send these boxes out to friends and family as a gift for the holidays, but we still have a few left! (Don't worry, the box we send you has been kept in the fridge since the holidays...)

2

67

Isaac Arellano, Kytessa Laing-Geisert

17

Family Fluxx has delightful child-like artwork and kid-friendly themes, but is still in the vault. This is the original version, with tuckbox style packaging.

2

131

Jessica Stewart,

John Allyn Moorman Jr.

18

Family Fluxx has delightful child-like artwork and kid-friendly themes, but is still out-of-print. This version is in the standard two-part box size.

2

170

Jonathan Nelson,

Michael Seher

19

This is a whole roll of Fluxx stickers featuring milk and cookies. They're rather old, but they still stick! Perfect for computer bling, notebook covers, postcards to friends, or sticker collections!

1

32

Brian Edwards

20

This is a single Icehouse bag from the early pyramid days pre-Looney Labs existing. Note the company name of Icehouse Games, Inc. This is the type of bag that the wooden pyramids ("Xyloid") were packaged with. This does NOT include any pyramids... it's just the bag.

1

109

Alex Ottenstein

21

These are some of the last of the clear plastic tubes we packaged pyramids in for many years. These tubes do not contain any pyramids.

10

39

Caitlin Riley,

David Low,

Gregory Braun,

Jacqueline Kennedy (x2),

Michael Pirkola (x2),

Gerald Collins (x3)

22

This is a production sheet from the first printing of Aquarius in 1998. The uncut sheet features the cards from 2 copies of the game.

2

116

David Juell,

Michael Fogus

23

Andrew Looney's Interactive Literature Souvenir Sampler Packet

This is a sealed envelope full of some artifacts of some of the Interative Literature games he helped write and organize back in the 80s, before such games became known as LARPs. This is one of the last of such packets Andy made to sell on eBay long ago. This page contains a more detailed description of this artifact.

1

118

Lisa Boys

24

Andy's prototype version of Petal Battle. It comes with two boards, an early rule sheet, the pyramids needed to play, and a slightly dented tin. This is a one-of-a-kind item.

1

244

Stephen Swarner

25

This is a reconstructed copy of Q-Turn, one of 21 sets which Andy assembled from leftover parts in early 2021. The mix of 16 wooden nickels doesn't quite match the original game (details decribed on the insert you can read in the photo) and it comes in a plastic bag instead of a tube, but otherwise it's exactly the same as a copy of the original game -- including the rulesheet and 4 bingo chip game tokens.

6

166

Benjamin Stein,

Dennis Boesgaard Petersen,

Jay Bushey,

Michael Ciarlillo,

Thomas Preece,

Tina Bushey