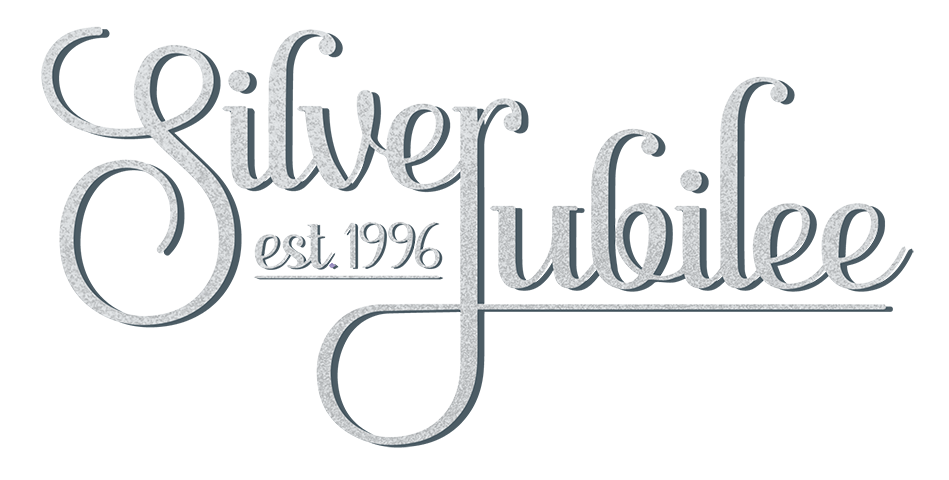 Welcome to Looney Labs!
We have been making tabletop games – card games and board games – for 25 years now, so we are celebrating our Silver Jubilee this year!
We would love for you to join in the fun!
What fun? We have many things planned for 2021, our 25th anniversary year.
Here's an overview, with more details further down the page:
Distribute 8,000 free copies of Tiny Fluxx to fans old and new.

Release three fan favorite, oft-requested titles from the vault for a limited time – Martian Fluxx, Oz Fluxx, and Seven Dragons.

Add several more games to Board Game Arena for free virtual game play opportunities.

Hold a bunch of intimate virtual celebrations to meet the Looneys and other fans!

Put up a variety of free content for all of our fans to participate in, including contests, videos, downloads, and more.

Hold quarterly raffles to win a variety of fun and/or rare prizes from our 25 years in business.

End the year with a free virtual party in November, the month the company came into being.
Thank you for helping us celebrate our Silver Jubilee!

---
MORE DETAILS
---
1. TINY FLUXX

Fluxx was our very first game and is still our best-seller, with over 4 million copies sold in more than 25 different varieties from Anatomy Fluxx to Fairy Tale Fluxx to Zombie Fluxx. Tiny Fluxx is an adorable abridged version of the game, with 21 cards (instead of the usual 100) and for two players only.
To celebrate our Silver Jubilee, we are including two free copies of Tiny Fluxx in every order placed on our web store while supplies last – one for you, and one to give to a friend.

2. UNVAULTINGS
Over the years we have had to let some titles go out of print to make way for new titles. But there are three that our fans have really missed and often requested that we bring back. As a thank you to our fans for 25 years of creating community together, we are bringing those titles back while supplies last! Beginning March 11th, the following three titles will once again be available.
3. BOARD GAME ARENA
The pandemic has required us all to get creative in the ways we get together and enjoy each others' company, and Board Game Arena has been a wonderful blessing for game players of all kinds. With nearly 300 games and more being added daily--everything from classics like Chess and Cribbage to favorite modern games like Carcassonne and Potion Explosion--you're sure to find a game you'd like to play. And with nearly 5 million player accounts, you're sure to find someone to play with.
Looney Labs has two game -- Just Desserts and Fluxx -- on Board Game Arena right now, and we have several more in development to be released in 2021. We may even set up a tournament or two!

4. VIRTUAL CELEBRATIONS (Updated June 16, 2021)
The year is halfway over and we have completed over 60 events! There are still dozens to come and we would love to have you join us! Ticket prices have been reduced to just $10 for the remainder of the year. Ticket holders get priority seating at all events. In addition, non ticket holders can attend as many events as they want for FREE as long as there are still seats available. Free slots are on a first come first served basis. Registration links can be reached from the main events page.
Events will be short and single-focused (such as just a Q&A or just a game of Parsely) and will be announced to ticket holders monthly via email, and to everyone on social media and the events page. Attendance will be locked 48 hours (sometimes a bit less) before the event so that we can notify registrants with the final attendee list and event location and password.
Check our Events Page for all the details on upcoming events!

5. SOCIAL MEDIA FUN
We have all sorts of fun and interactive social media planned! We don't really want to say much here because that will spoil the fun, but suffice it to say that it will be worth it to follow us on social media! To be specific, you can follow us on Twitter, Instagram, and YouTube, and in addition to our main page on Facebook, we also have several different groups to join! The "Chatter" group and the "Starship Captains" group are the two that are most likely to feature some social media fun as described here.

6. RAFFLES
Each quarter we will provide a new list of ways to earn raffle tickets and a submission form. At the end of the quarter, raffle tickets will be tallied (raffle tickets are non-transferrable) and a "bucket raffle" will be held for several rare prizes from Looney Labs history.
7. END OF YEAR PARTY
Virtual meeting platforms are adapting to this new world on a daily basis, and although we don't know which platform we will end up on for our virtual party in November, we do know that we plan to put on a great event for up to a few hundred people. There will be chances to mingle, dance, play games, and generally let loose before the holiday season is upon us. We hope you'll join us!