Nov. 1, 2012
Volume 5, Issue 3
---
Feature Article
Treehouse Returning to Stores Near You!
---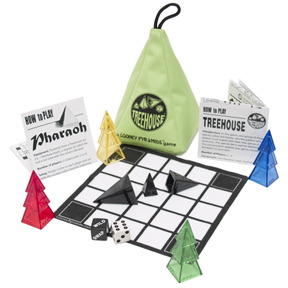 We are really excited to announce that the award-winning game, Treehouse, is returning to your favorite hobby game stores! Some of you may remember Treehouse as a part of the Icehouse game system. Treehouse is a fun, simple, action game with repeat playability, which makes for a wonderful time with your friends and family. In 2006, it won the Origins award for Best Board Game. And if you haven't played any Looney Pyramids game yet, Treehouse is a wonderful introductory game to get you on the road to playing with pyramids.
"Treehouse is one of the best games I have played. Why is that? It's fast, easy, and small. Whenever I go to a family function, you can guarantee that Treehouse is in my pocket. My son and I will play it while sitting around a table with other family members. Since the game is so simple, you can carry on a conversation with others while playing the game. " -- Troy Davidson's comment on a BGG thread
In its return to stores, the game's packaging has been updated from the previously used tube to a green bag, a slightly smaller version of the pyramid-shaped packaging of IceDice. Not only that, Treehouse also comes with Pharaoh, an entertaining, great-for-all-ages, bonus game that includes a special cloth game board and die!
Along with the re-launch of Treehouse, we are proud to announce the Pyramid Primer #1. This full-size publication includes rules to the 13 pyramid games that are introduced in the smaller Pocket Guide. The primer is an excellent training tool to advance Cadets to become Starship Captains in the Icehouse Academy of Starship Captains! Anyone who has learned ten pyramid games can call themselves a Starship Captain. Retailers and Game Technicians should check out our exciting new Looney Pyramids Demo Kit to get involved in building a community of pyramid fans.  
In other exciting Looney Labs news, Fluxx is coming to iOS thanks to a wonderful partnership with Playdek! This upcoming holiday you will be able to play Fluxx on your iPhones, iPods and iPads. Sign-up to be reminded the day the game hits iTunes!
We're also looking forward to Will Wheaton and friends reviewing Star Fluxx on TableTop, Thurs., Nov. 1. Keep an eye out for their review!
---
Trivia Question
The very first pyramid game is called Icehouse, the second oldest is Martian Chess. Both games are found in Pyramid Primer #1. What movie indirectly inspired the game Martian Chess?
Scroll down to see the answer.
---
Ask Andy
Q: Suppose I'm a big fan of Fluxx who has yet to try out these pyramids. Which game should I try first?
Andy's answer: "Treehouse! It's the perfect place for the Fluxx fan to start because the gameplay is actually very similar to Fluxx. Each player gets three pyramids, which they keep on the table in front of them, like keepers. An additional set of three pyramids sits in the middle of the table, defining the goal of the game; victory can occur at any time simply by getting the pyramids you have to match the arrangement called for by the goal. You can do this either by rearranging the pyramids you are keeping, or by altering the goal itself. New rules and actions, if you will, are embodied in the special die, which provides an ever-changing set of options and limitations for your moves each turn. So you see, Fluxx and Treehouse are basically the same game! QED!"
---
Survey of the Month
Of the pyramid games you have not yet played, which are you most excited to learn?
Take the Survey! We'll post the results in our next newsletter.
---
Results of Last Issue's Survey
Here's what the 45 people who responded to the last survey on Lovecraft's Stories said:
"Which is your favorite of these Lovecraft Stories?"
26.7% - At the Mountains of Madness
20.0% - The Dunwich Horror
13.3% - The Shadow Over Innsmouth
13.3% - I have not read any of them!
6.7% - The Colour out of Space
4.4% - The Thing on the Doorstep
4.4% - The Whisperer in Darkness
4.4% - The Rats in the Walls
4.4% - Pickman's Model
2.2% - Herbert West: Reanimator
0.0% - The Silver Key
---
Trivia Question Answer
Bill & Ted's Bogus Journey. The all-white-piece chess game glimpsed during that scene in heaven inspired Andy to create a chess variant called Monochrome Chess, which later evolved into Martian Chess.
---
Social Media
Check us out on Facebook, Twitter and our Fan Club!
---
Thanks for playing Looney Labs Games!