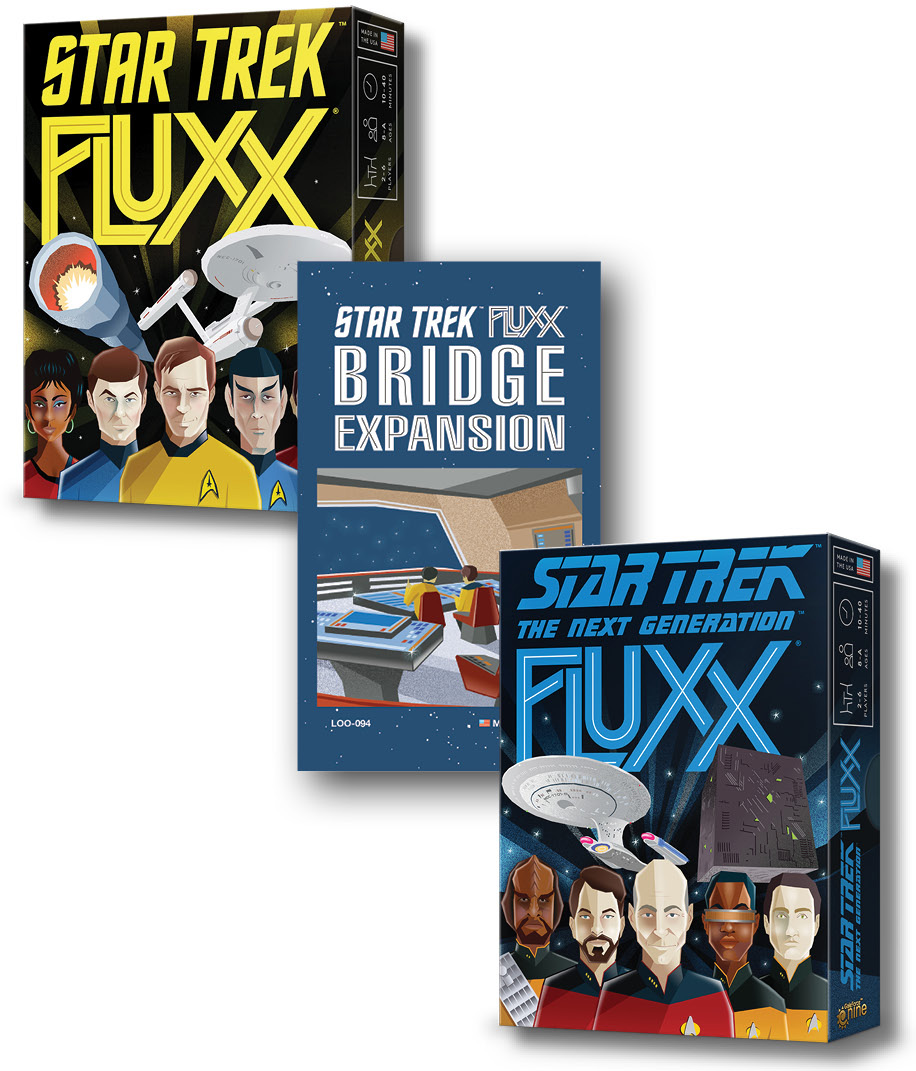 Star Trek Fluxx, Star Trek: TNG Fluxx, and the Star Trek Bridge Expansion
both went on sale on Aug 2nd 2018!
Set a course for the final frontier with Star Trek Fluxx! Featuring Kirk, Spock, McCoy, and the rest of the original series crew, you'll take command of the Enterprise, and face Creepers like Klingons, Romulans, and the terrifying Doomsday Machine. You might even find yourself playing Fizzbin or Venting the Warp Core to explore new worlds and collect the Keepers needed for victory! Or, decide to beam yourself aboard the Enterprise-D for a game of Star Trek: The Next Generation Fluxx! Join Picard, Riker, Data, and the rest of the TNG crew, to gather the Keepers you need for victory – but don't let Creepers like Q or the Borg keep you from your mission! With new cards like Darmok and the Rule of Acquisition, this version of Fluxx will take you into the 24th Century!
And if you're excited about those two games, guess what?

We designed them to be combined, and
Star Trek
Fluxx Bridge Expansion
cards make it even better. The Bridge Keeper lets you take control of either Enterprise, and a host of new Goals let Kirk meet Picard, Spock meet Data, and the Past meet the Future!

Don't forget to contact your favorite Local Game Store to order your copies, and if you are a retailer, more information can be found here.
STAR TREK ™ & © 2018 CBS Studios Inc. STAR TREK and related marks and logos are trademarks of CBS Studios Inc. All Rights Reserved.