Coming July 7th, 2022 – Expand you favorite Fluxx!
All 3 of these fun expansion packs can be added to any Fluxx deck to further gameplay!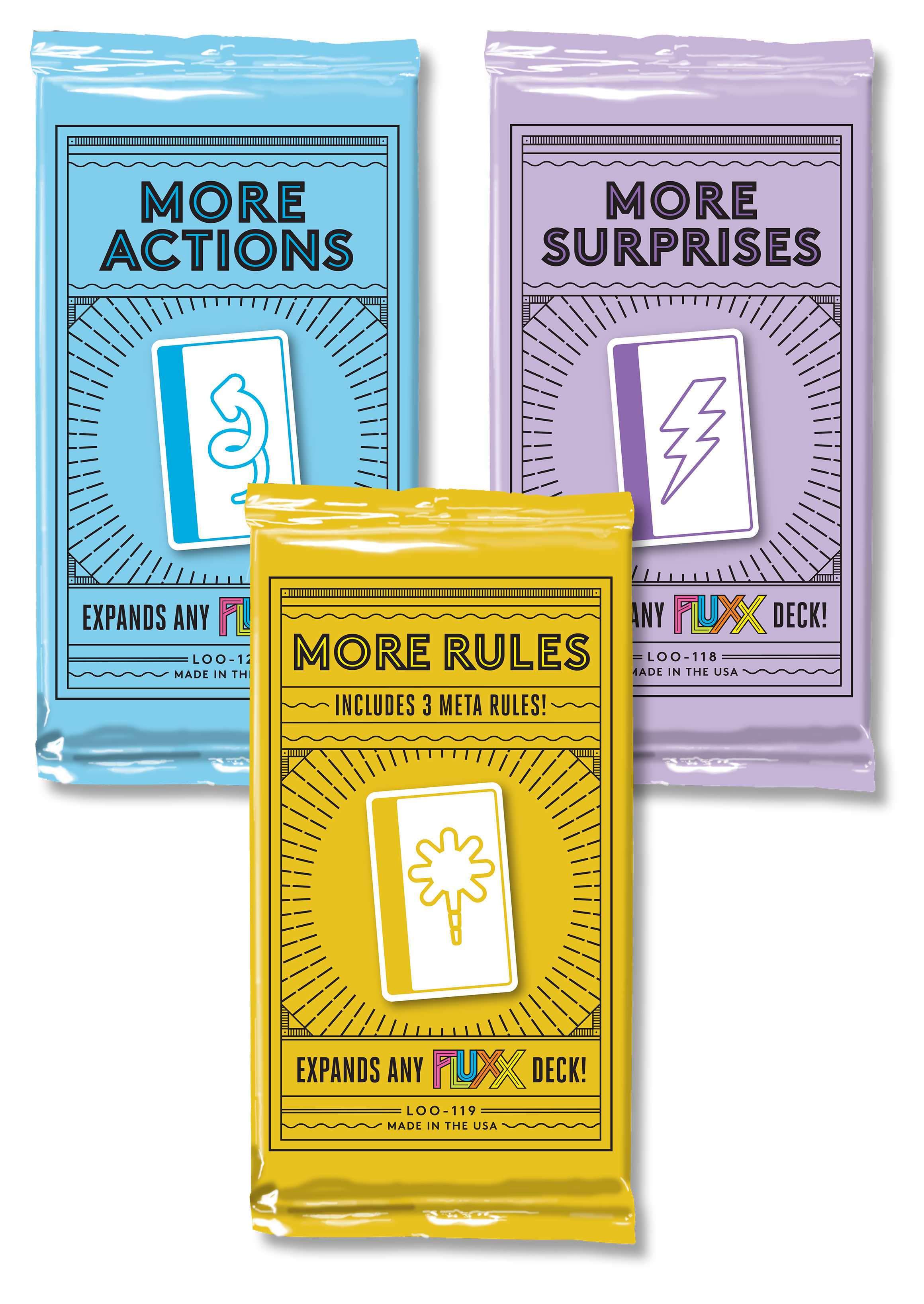 Name: More Actions Expansion

Includes 10 powerful fan favorites that will spice
up any game!
Game SKU:
LOO-120
Game UPC:
850023181114
Name: More Rules Expansion

Includes 10 fun, lesser-seen New Rules, plus
3 Meta Rules!
Game SKU:
LOO-
119
Game UPC:
850023181107
Name: More Surprises Expansion

Includes the 4 original Surprises, 4 rarer ones,
and 2 all-new Surprises!
Game SKU:
LOO-
118
Game UPC:
850023181091
PLEASE NOTE:
These expansions are not standalone games.
Each individual pack has a $5 MSRP, is wrapped in foil,
measures 4.75" x 2.5" x .25", and weighs 0.6 oz.
These products do not come with a display.

Download sell sheet
More Actions high-res wrapper • More Rules high-res wrapper • More Surprises high-res wrapper
More Actions high-res contents • More Rules high-res contents • More Surprises high-res contents
More Rules, More Actions, and More Surprises contents

---
PLEASE NOTE: We are not making a demo kit or a marketing kit for these products.
We are setting a delivery date on these items of two days before the street date.
Distributors:

It is okay to send this to stores a little early, so they are sure to have it ready for sale on street date, but please make sure you promote the street date as the date they can start selling the game!
Retailers:

Please don't sell it until the street date if your copies arrive early!