Fluxx Remixx
The card game of ever-changing rules, now with Surprises and all-new Goals!
What do you get when you start with the familiar Keepers from Fluxx and reimagine everything else? Fluxx Remixx! This version of the base game is intended to be a little more advanced and a little more chaotic than the "milk and cookies" version. With a whole new slate of Goals to work toward and New Rules, Actions, and Surprises that keep things hopping, you can be sure zaniness will ensue! And since this is a "remix," it's got musical references throughout, just for the fun of it. Here comes the sun!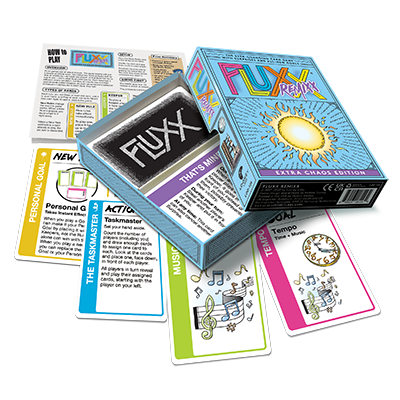 Game Play

It all begins with one basic rule: Draw one card, play one card. You start with a hand of three cards, add the card you drew to your hand, and then choose one card to play, following the directions written on your chosen card. As cards are drawn and played from the deck, the rules of the game change from how many cards are drawn, played, or even how many cards you can hold at the end of your turn.
Expansions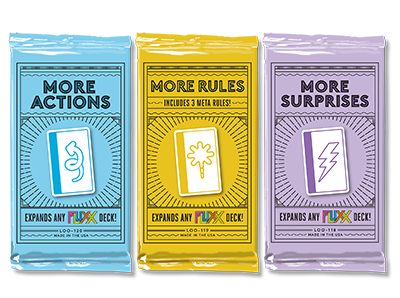 The More Packs: Three new packs that you can add to any Fluxx deck! The More Rules expansion includes 13 cards – 10 fun, lesser-seen New Rules, plus 3 Meta Rule cards; the More Actions expansion includes 10 powerful fan faves that will spice up any Fluxx game; and the More Surprises expansion includes 10 cards – the 4 original Surprises, 4 rarer ones, and 2 all-new cards.
More Rules, Actions, and Surprises Card List
Order these expansions from our webstore:
More Surprises
More Actions
More Rules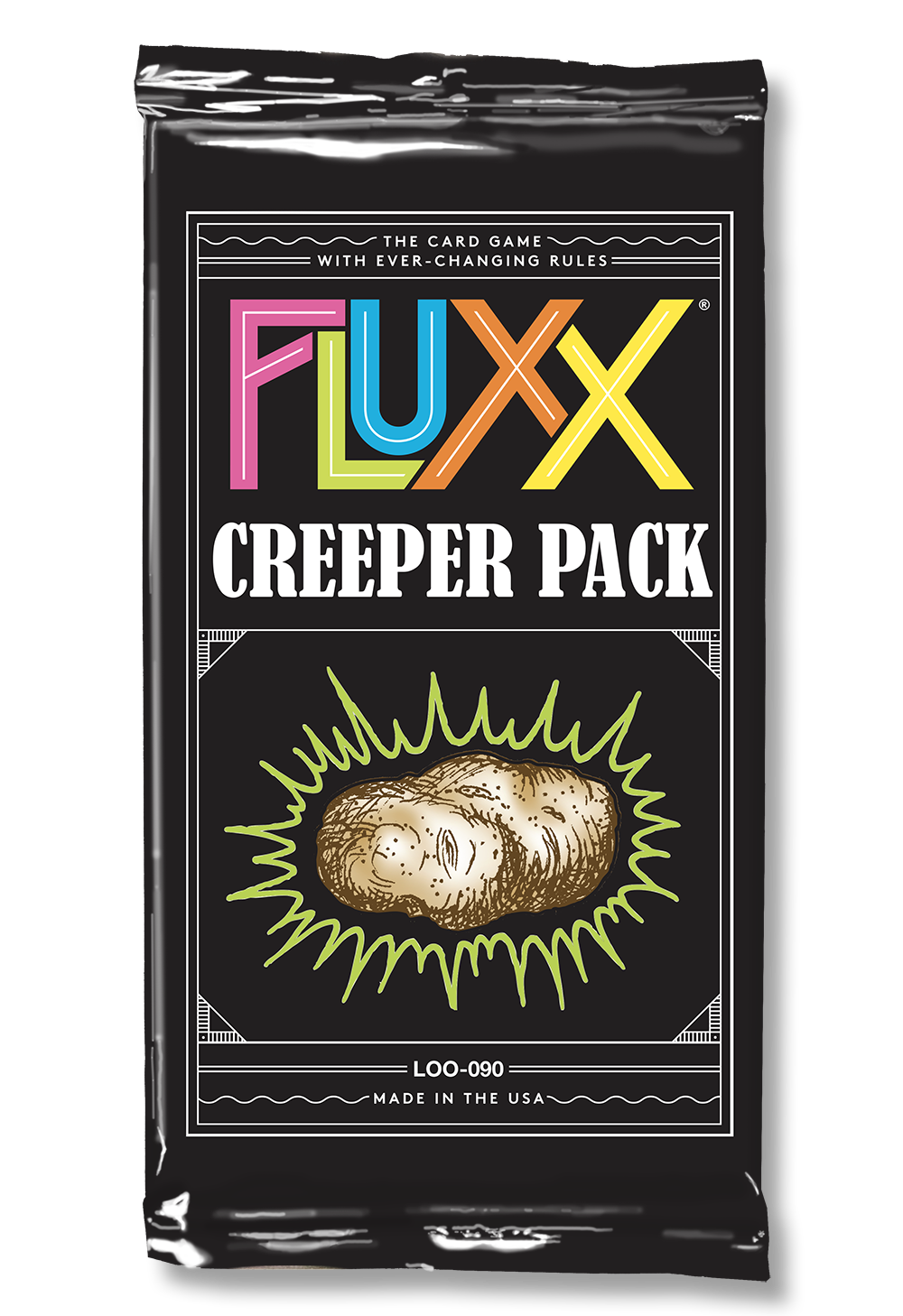 Creeper Pack: Version 4.0 of Fluxx introduced Creepers to the basic game, but these cards were dropped again when Fluxx 5.0 was published. This left several cards unavailable, but now they're back, along with an extra Goal!
Creeper Pack Card List:
New Rules: Silver Lining and You Also Need a Baked Potato

Actions: Steal Something, Trash Something, Creeper Sweeper, and
Move a Creeper

Creepers: War, Taxes, Death, and the Radioactive Potato

Goals: War = Death, All That Is Certain (Death & Taxes), Death by Chocolate, Money (No Taxes), Peace (No War), and Your Tax

Dollars at War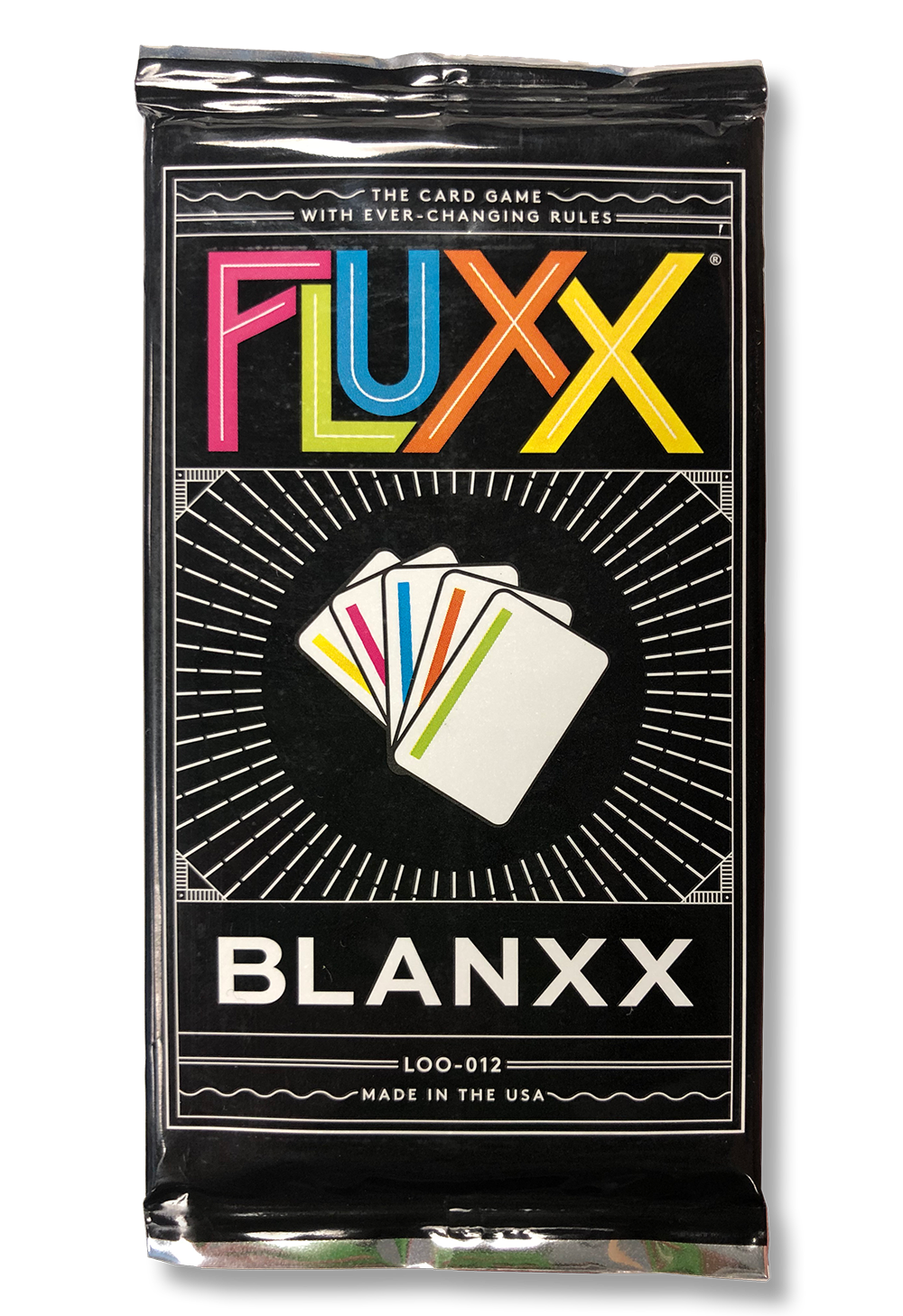 Fluxx Blanxx: Now you can add your own zany ideas to the crazy game of Fluxx! Our most recent version of Fluxx Blanxx contains 10 cards. Cards are in the new style with just the stripe of color. Card backs for all Fluxx games (except some international versions) match, so you can use these in any deck. Just grab your trusty permanent marker and customize the fun!
Fluxx Blanxx Card List:
2 Keepers

1 Creeper

4 Goals,

1 New Rule

1 Action

1 Surprise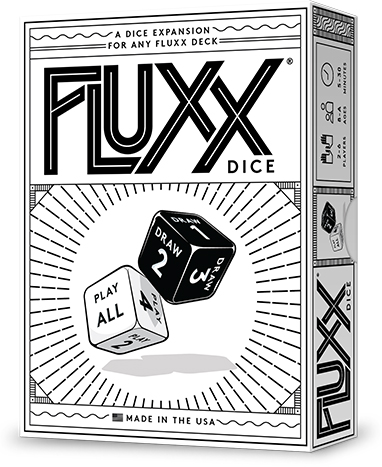 Fluxx Dice Expansion: As if Fluxx weren't chaotic enough, Looney
Labs has found a way to change things up even more. Roll the dice
and watch the Draw and Play rules change with every turn! Includes
five new cards and two dice, and can be incorporated into any version
of Fluxx (it's not a standalone game).
Fluxx Dice Contents (cards only, without the dice, are also available):
A specially-designed pair of dice

Meta Rule:

Fluxx Dice

New Rule: Dice Override

Action: Roll For It!!

Keeper: Lucky Charm

Creeper: Bad Luck
Reviews