Regular Show™ Fluxx - in stores July 25, 2014
Download hi-res box image • Download Sell Sheet
Looney Labs teams up with Cartoon Network
to create the most irregular version of Fluxx yet.
Join Mordecai, Rigby and the whole gang. Do
your friends a solid and distract the Destroyer
of Worlds to save The Park… but don't let
Benson catch you doing donuts or you're fired!
© 2014 Looney Labs.
TM & © 2014 Cartoon Network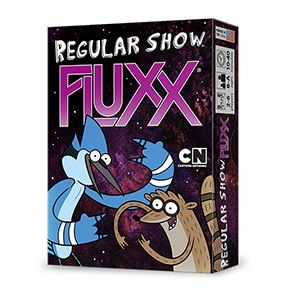 Regular Show™ Fluxx
Street date: July 25, 2014
SKU: LOO-063
UPC: 857848004109
MSRP: $20
Packaged in a two-part box (3.75"x5"x1"), with a 6-game display (3.8"x7"x8"), 8 displays per case or 48 games per master carton.
Key Selling Points:
#1 show among boys 6-11 and #2 among

boys 9-14 in primetime for all of 2013.*
Fluxx is an evergreen title with over

1 million units sold.
Multiple promo cards and items lined up

for product release.
This kit will be available through our distributors.
Limited to no stock available (ask your distributor to check).
Kit Contents:
Demo Copy of the game,
(2) 11x17 poster designs, a s
ell sheet,
and
20 packs of
LOO-811-07—
a
7-card expansion pack for the game
!
If you are not a retailer: Game Technicians can order the Game Tech Launch Kit.
*Source: Cartoon Network Research based on Nielsen Media Research Data. Based on Live Plus Same Day data. Movies, specials and programs with less than 5 telecasts or 15 minutes in length were excluded. Period: Total Year 2013 (12/31/12-12/29/13), Monday through Sunday 7p-9p. Cartoon Network vs. all competitive kids cable networks.