Keepers (21 cards)
The Skeleton

The Mad Scientist

The Franken-Monster

The Lab Assistant

The Mummy

The Moon

The Tombstone

The Laboratory

Spooky Door

Angry Mob of Villagers

The Teenage Detectives

Bats

Witches

Bigfoot

The Cauldron

The Castle

The Vampire

The Wolfman (aka The Werewolf)

The Ghost

Fuzzy Monster

Zombies
Foot in the Door

Kill The Monster!

Skeleton in the Closet

Rest In Peace

It's Alive!

Fetching Spare Parts

(I Was) Working in My Lab

Help Me, Igor!

Cereal Mascots

That's No Monster! (It's Just Mr. Withers In A Scary Mask!)

That's No Bigfoot! (It's Old Man Peterson in a Gorilla Suit!)

That's No Mummy! (That's Just a Guy Wearing Cloth Strips!)*

Castle Laboratory

Haunted Castle (The Castle is Haunted)

(Let's) Storm The Castle

Dracula's Castle

The Ghost of Bigfoot

Mob of Teenagers

Bat Transformation (Transformed Into a Bat)

Bats in the Belfry

Werewolf Hunting

The Moon Is Full (Howl at the Moon)

Jekyll & Hyde (Dr. Jekyll & Mr. Hyde)

Castle Graveyard

(Yikes!) It's A G-G-G-Ghost!

The Witching Hour

Witches' Brew

Clean This Place Up!

Potions 101

Tomb of the Mummy

Lunar Cyclops (One-Eyed Moon Man)

Professional Monster

Zombie Uprising

Reanimated Flesh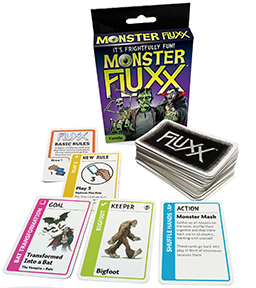 New Rules (23 cards)
Play 2

Play 3

Play 4

Play All

Play All But 1

Draw 2

Draw 3

Draw 4

Draw 5

Hand Limit 1

Hand Limit 2

Hand Limit 3

Hand Limit 4

Keeper Limit 2

Keeper Limit 3

Keeper Limit 4

No-Hand Bonus

Get On With It!

Goal Mill

Recycling

Double Agenda

Open The Door

Monster Bonus
Actions (21 cards)
Monster Mash (erroneously labeled "Shuffle Hands")*

Zap a Card

Trade Hands

Exchange Keepers

Steal a Keeper

Everybody Gets 1

Trash a Keeper

Let's Simplify

Rules Reset

Discard and Draw

Jackpot!

Random Tax

Use What You Take

Rotate Hands

Draw 3, Play 2 of Them

Draw 2 and Use 'Em

It's Not Dead (The Creature is Still Alive!)

Destroy All Monsters!

Let's Do That Again!

No Limits

Trash A New Rule
This makes a total of 100 cards in the box. A rulesheet is also included.
*Note that these two cards are misprinted in the first version.
The win conditions for That's No Mummy! should be listed as The Mummy + The Teenage Detectives. The Monster Mash card should say Monster Mash on the stripe, not Shuffle Hands (the action is actually a Shuffle Keepers-type action). Corrected reprints of these two cards are available for free from our webstore (we will remove postage cost).
Note that cards mentioning The Werewolf should be construed to apply to The Wolfman. No replacement cards were printed for this issue.