November 27, 2009
Volume 2, Issue 6
---
Feature Article
The holidays are on their way - and so is our annual Holiday Gift!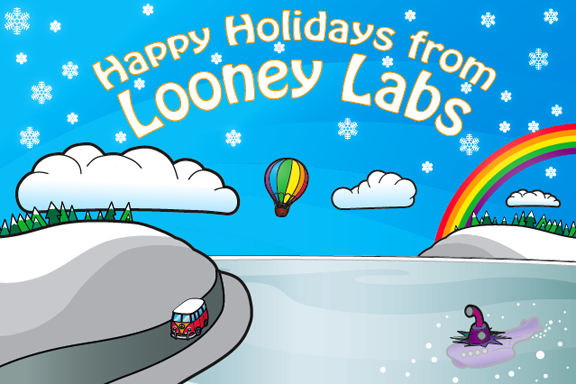 To our fans in the USA, we just mailed out this postcard which includes a link to our annual Looney Labs Holiday Gift. If you are located outside the USA, are in the USA and didn't get the postcard, and/or would just like another copy of it, Order Here and we will include one for FREE with your next online order.
And be sure you download the Holiday Gift..... a new pyramid game from Andy: Nothing Beats a Large
It's been a fun and productive year here at Looney Labs, and we've made some awesome new games for you! For $20 or less you can give the gift of FUN this year, because Looney Labs games make great gifts for friends and family!
We made four new games this year...
Please look for a store near you that sells our games - times are tough, and stores need your business - search by zipcode: roster.looneylabs.com. If you must buy online, please buy from us! To help you stretch your holiday shopping dollars, here is a coupon for our webstore to get $5 off any order over $35. Shop at: store.looneylabs.com and use coupon: DF35DP9 (expires Jan 15, 2010).
Chrononauts and The Gore Years are coming soon...
Have your ordered your new Time Machine yet? The printing error has been fixed, and Chrononauts and The Gore Years are releasing on December 4, 2009. Your Friendly Local Game Store (FLGS) would love to take a pre-order for you. If you don't have a FLGS, and must buy online, please buy from us: Chrononauts - Gore Years
---
Trivia Question
The new edition of Chrononauts features a new type of dinosaur, Sarah the Triceratops. But this is actually the fifth Dinosaur flavor featured on a Chrononauts card. What was the fourth?
Scroll down to see the answer.
---
Ask Andy
Q: Who was John McCain's running mate in the Alternate Reality election of 2004' (pronounced "2004 prime")?
(Note: You can view an image of the 2008' patch on this page... )
Andy's answer: "The Patch for 2008' says that Sarah Palin gained fame during the 2004' election. This is not to say that the ticket in 2004' was McCain/Palin, but simply that she first came to national attention during that campaign. It's a parallel story to that of Barack Obama, who made a big impression on the electorate in his speech at the Democratic National Convention in 2004. So in the alternate reality version of 2004', when McCain ran against the incumbent Gore/Lieberman ticket and lost, the one thing everybody remembered was Palin's stirring speech to the RNC on the night before McCain's nomination. Or, maybe he singled her out in a Joe-The-Plumber kinda way, somewhere along the campaign trail. The point is, four years earlier would have been too soon for her to be chosen as McCain's running mate, but his campaign did bring her into the national spotlight at that time. As for McCain's actual running mate choice in 2004', my answer is: Elizabeth Dole."
---
Survey of the Month
When do you start your holiday shopping?
Take the Survey! We'll post the results in our next newsletter.
---
Results of Last Issue's Survey
Our question last time was: What's your favorite Time Travel movie?
The winner was: Back to the Future 1-2-3
Here are the results of the 196 votes cast:
Back to the Future 1-2-3 - 29.1%
Groundhog Day - 14.3%
Time Bandits - 12.2%
12 Monkeys - 9.7%
Bill & Ted's Excellent Adventure - 7.7%
Star Trek IV: The Voyage Home - 4.6%
The Time Machine (1960) - 4.1%
Star Trek: First Contact - 4.1%
The Terminator - 2.6%
Terminator 2: Judgment Day - 2.6%
Primer - 2.0%
Somewhere in Time - 2.0%
Time After Time - 1.0%
The Butterfly Effect - 1.0%
Slaughterhouse 5 - 1.0%
Timecop - 1.0%
12:01 - 0.5%
The Time Traveler's Wife - 0.5%
The Time Machine (2002) - 0.0%
Peggy Sue Got Married - 0.0%
Millennium - 0.0%
---
Trivia Question Answer
The fourth Chrononauts dinosaur is the pterodactyl, featured as a mating pair (named Terry and Teri) on a promo card (still available at LooneyLabs.com) made for the release of EAC (Early American Chrononauts).
Check out all our other Promo Cards!
---
Thanks for Playing Looney Labs Games!