Holiday Fluxx - in stores October 3, 2014
Download hi-res box image • Download Sell Sheet
The holiday season comes every year, and with it, thoughts of parties and gift-giving. Holiday Fluxx is here to jump into that niche every time it rolls around. Holiday Fluxx is the perfect game to bring folks of all ages together for good times and laughter. Stock it as soon as you want to bring your customers thoughts around to the season of gifting and gathering.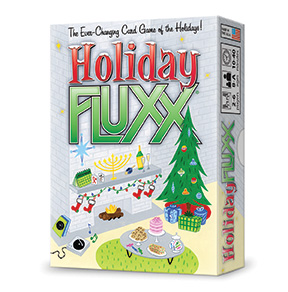 Holiday Fluxx
Street date: October 3, 2014
SKU: LOO-064
UPC: 857848004130
MSRP: $16
Packaged in a two-part box (3.75"x5"x1"), with a 6-game display (3.8"x7"x8"), 8 displays per case or 48 games per master carton.
Key Selling Points:
Perfect for a holiday display in your store!
Holiday season is an "evergreen" theme: it comes every year!
Priced and sized just right for stocking-stuffers or smaller gifts.
Almost 2 million copies of Fluxx sold to date!
Great for groups of mixed ages at holiday get-togethers!
This kit will be available through our distributors.
Limited to no stock available (ask your distributor to check).
Kit Contents:
Demo copy of the gam
e,
ot
her unlisted promo items,
(2) 11x17 unique posters, a s
ell she
et,

and

one 25-pack of retailer-exclusive promo postcards for Holiday Fluxx
!
If you are not a retailer: Game Technicians can order the Game Tech Launch Kit.