Check out Custom Loonacy - make as few as 1 custom deck for only $10 each!
Below are details for making a Short Run Loonacy design in our standard 2 part box - with every 6 games packed in a colorful matching display box... but you need to buy them in quantites of 1008 so we can gang run them when printing our other games.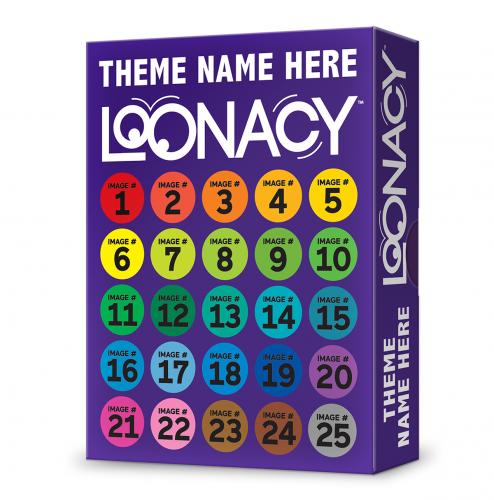 GAMEPLAY: see LOONACY and Sample Game Video
CUSTOMIZATION: You must provide illustrations for 25 images, plus a name for your custom theme that fits above the logo at the top of the box. You can choose any background color you want, see more examples below. Your images will be shown in the 25 circles on the box!
QTY: 1008 games (or 2016 or 3024, etc.)
CONTENTS: 100 cards, an insert, and rules - in a 2 part box
PACKAGING: each 6 games comes in a colorful display box
TIMING: TBD, anywhere from 4 to 8 months (*)
COST: $6 per game ($6048)
(*) NOTE regarding Timing: We only do this kind of print run a few times a year, and we can only offer this pricing when we are ordering other games at the same time. We almost always do a run in early September, which will get the order done and shipped before CNY, and in your hands early the next year. Contact us to inquire about the current timing options.
For quantities of between 1 and 1000 decks, check out our Custom Loonacy option. This is a smaller 72 card game in a black Custom Loonacy box - you can create these yourself via our Custom Loonacy site with The Game Crafter. Each deck is $10 each for 1-99 games, or $9 each for 100-999 games.