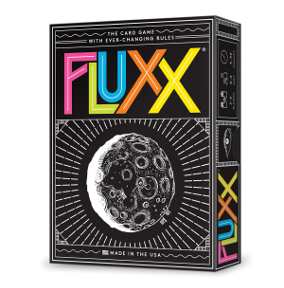 Fluxx
The Card Game With Ever-Changing Rules!
The latest and greatest version of the card game with ever changing rules! Easier than ever with just the four classic card types that fans the world over have come to know and love. It starts out simple: draw one card and play one card – but New Rule cards quickly make things chaotic.
Even the object of the game will often change as you play, as players swap out one Goal card for another. Can you achieve World Peace before someone changes the goal to Bread and Chocolate?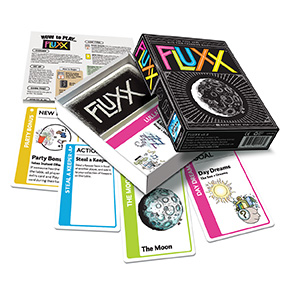 Game Play
It all begins with one basic rule: Draw one card, Play one card. You start with a hand of three cards... add the card you drew to your hand, and then choose one card to play, following the directions written on your chosen card. As cards are drawn and played from the deck, the rules of the game change from how many cards are drawn, played or even how many cards you can hold at the end of your turn.
Expansions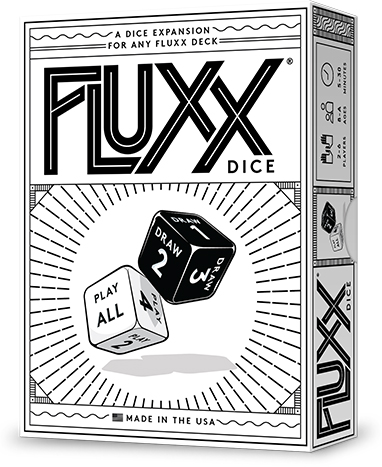 Fluxx Dice Expansion: As if Fluxx weren't chaotic enough, Looney
Labs has found a way to change things up even more. Roll the dice
and watch the Draw and Play rules change with every turn! Includes
five new cards and two dice, and can be incorporated into any version
of Fluxx (it's not a standalone game).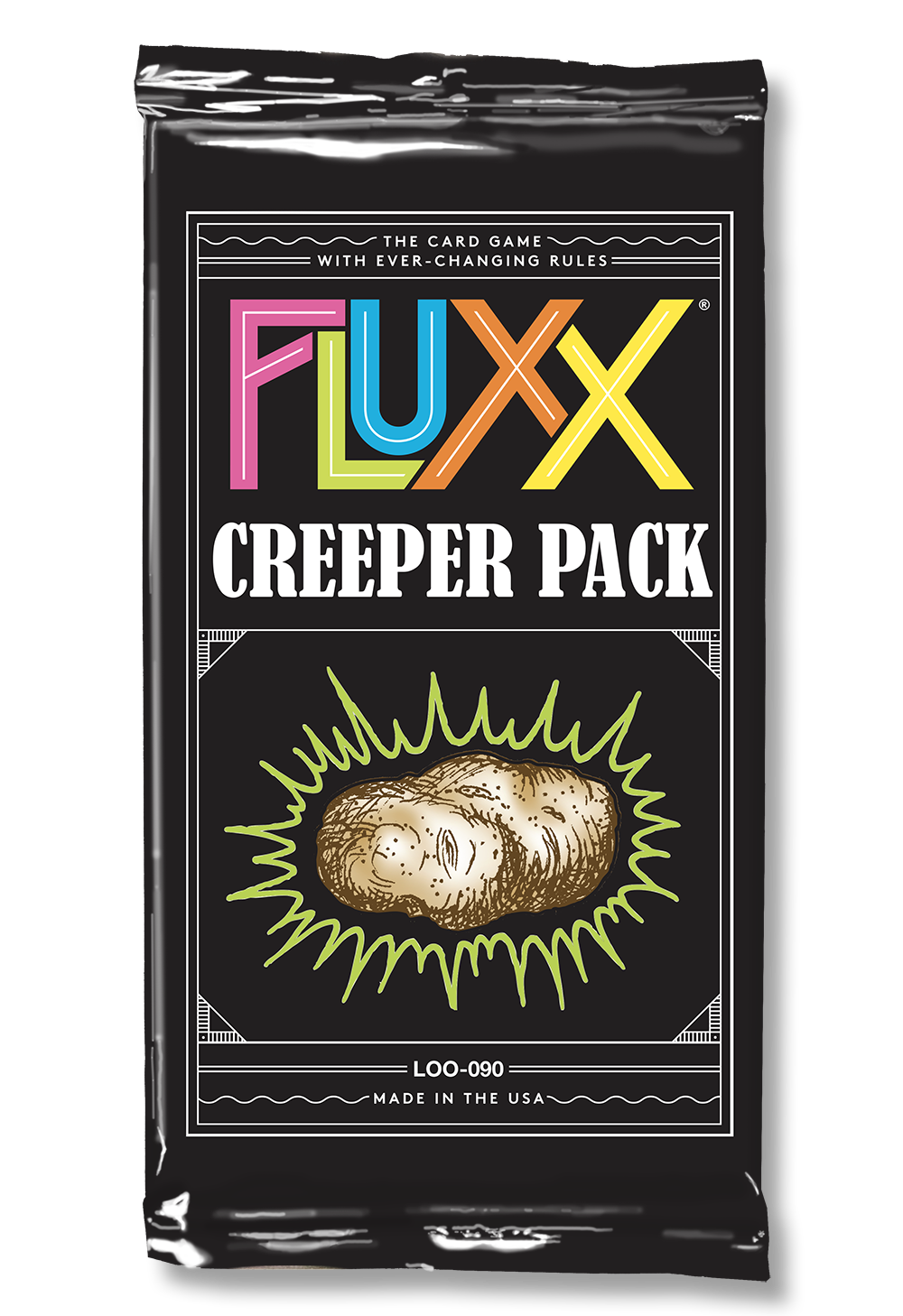 Creeper Pack: Version 4.0 of Fluxx introduced Creepers to the basic game, but these cards were dropped again when Fluxx 5.0 was published. This left several cards unavailable, but now they're back, along with other new particularly intense Fluxx cards!
Card List:
New Rules: Silver Lining a

nd You Also Need a Baked Potato

Actions: Steal Something; Trash Something; Creeper Sweeper; and Move a Creeper

Creeper: War; Taxes; Death; and Radioactive Potato

Goals: War = Death; All That Is Certain (Death & Taxes); Death by Chocolate; Money (No Taxes); Peace (No War); and Your Tax

Dollars at War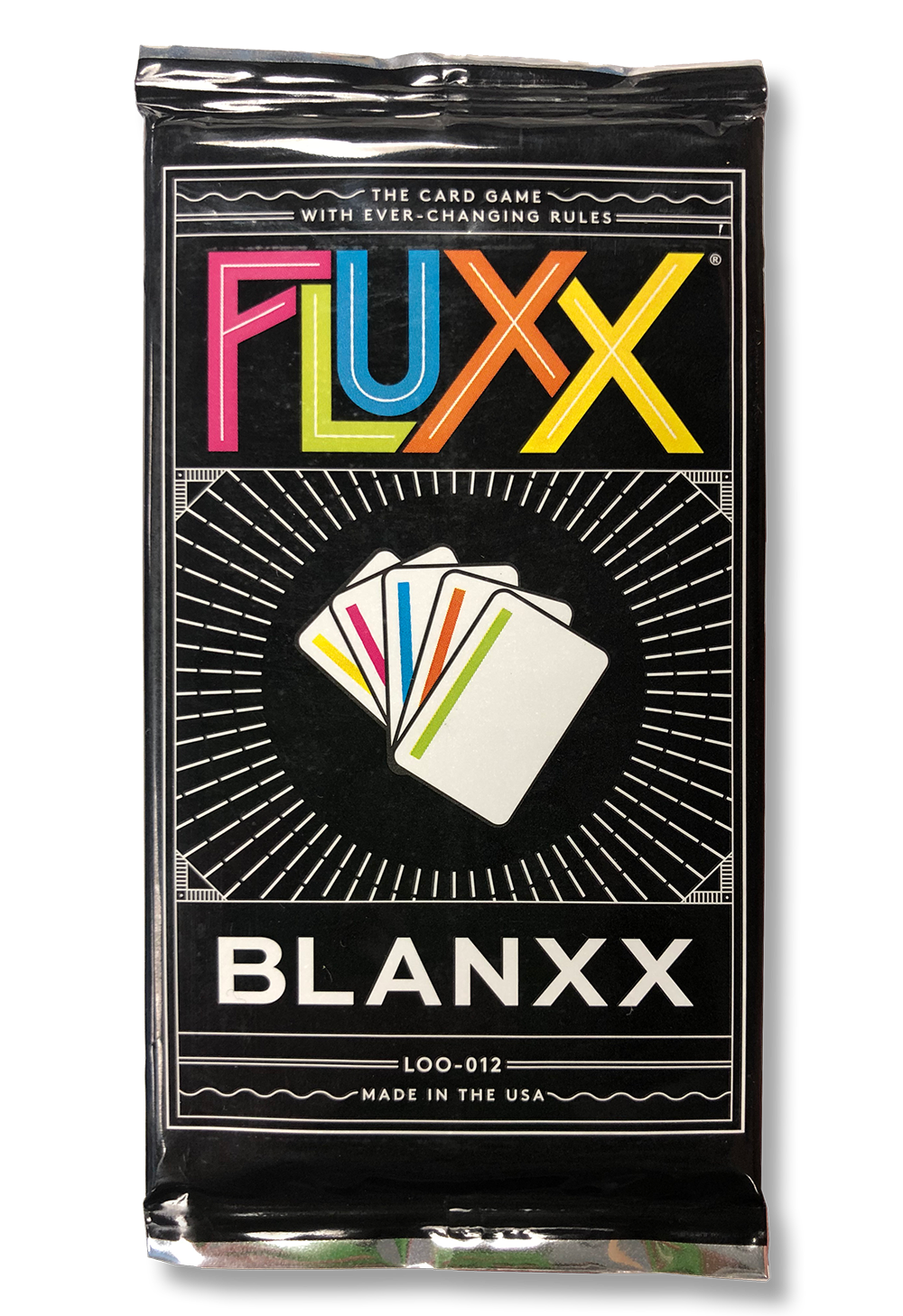 Fluxx Blanxx: Now you can add your own zany ideas to the crazy game of Fluxx! Our most recent version of Fluxx Blanxx contains 10 cards: two Keepers, one Creeper, four Goals, one Action, one New Rule, and one Surprise. Cards are in the new style with just the stripe of color. Card backs for all Fluxx games (except for international versions) match, so you can use these in any deck. Just grab your trusty permanent marker and customize the fun!
Specialty Cards:
Goal Foundry Promo Pack: This is a pack of seven new goals for the unthemed Fluxx versions 5.0, 4.0, and SE. The card style matches 5.0 and the second run of SE, but the Keeper art matches 5.0 and 4.0. It also includes a new Meta Rule (rule which stays in effect for the whole game) called Goal Foundry. This essentially makes the New Rule Goal Mill permanent to the game... which you're going to need with seven extra Goals in your deck! This pack can only be found in our webstore.
Jewish Fluxx Booster Pack: This pack contains seven cards to add to a non-themed Fluxx deck. It features two new Keepers and gives players a bonus for showing or knowing their Jewish heritage. This pack can only be found in our webstore.
Card List:
• Keepers: The Torah and Candles • New Rule: Judaica Bonus
• Goals: Torah Study; Tradition; • Action: Hebrew Knowledge
and Shabbat
Reviews