Fantasy Fluxx
The card game of ever-changing adventures!
Gather your friends for a party – an adventuring party, that is! Set off on a classic quest with your faithful companions: the Helpful Elf, the Dwarven Warrior, the Gallant Swordsman, and, of course, the Wise Old Wizard. Learn from the Cranky Magic Teacher how to use your Wand to cast spells like Invisibility or Fireball! You may need them as you encounter the Dreaded Pirate, or when you find out that the Captured Princess is actually the Mother of Dragons! Will you and your fantasy favorites survive the Final Showdown with the Dark Lord? Find out when you play Fantasy Fluxx!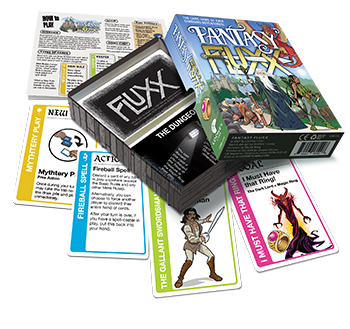 Game Play
It all begins with one basic rule: Draw one card, play one card. You start with a hand of three cards, add the card you drew to your hand, and then choose one card to play, following the directions written on your chosen card. As cards are drawn and played from the deck, the rules of the game change from how many cards are drawn, played, or even how many cards you can hold at the end of your turn.
Reviews