Fluxx: The Board Game
Download hi-res box image • Download announcement
The board game that's all about change: changing rules, changing goals and now changing tiles. Occupy the right tile spaces to claim the current goal and reveal the next goal... getting you one step closer to victory!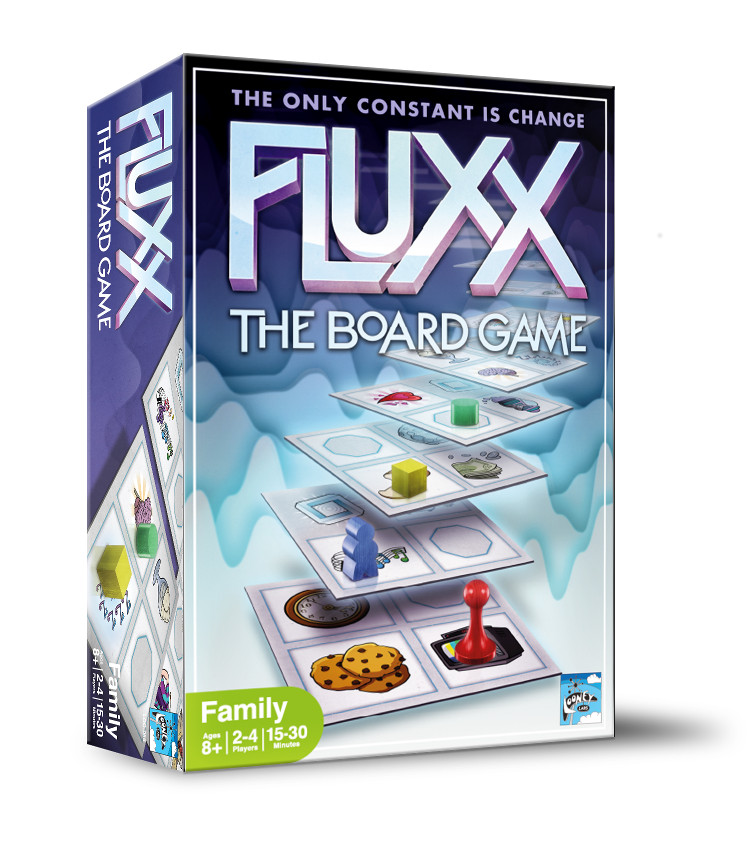 Fluxx: The Board Game
Street date: July 26, 2013
SKU: LOO-055
UPC: 857848004024
MSRP: $30
Packaged in a two-part box (10.75" x 7.5" x 2.5"), with six games per master carton.
Fluxx: The Board Game Launch Kit (for retailers)
Key Selling Points:
It's more strategic than the original card game and delivers everything you'd expect from a name like Fluxx: The Board Game.

The ever-shifting landscape is made of tiles that can be rotated or uprooted elsewhere on the table.

To win, players must position their pieces on spaces shown on the goal.

Victory requires accomplishing several goals but the exact number needed is subject to change!

Rules changes are tracked on a comprehensive new pegboard.

It's a game about change where everything can change—from the rules to the gameboard to the color of your pieces!
Limited to no stock available (ask your distributor to check).
Kit Contents: Demo Copy of the game, 11x17 poster, sell sheet
... there is no promo item in this kit, but it is also only $8 !
If you are not a retailer: Game Technicians can order the Game Tech Launch Kit