ZENDO
The Game of Inductive Logic
Zendo is an inductive logic game in which beautiful crystalline pieces are used to build structures marked by the Moderator according to a secret rule selected from a versatile deck of options. By observing the patterns and testing their guesses, players narrow down the possibilities until someone is able to guess the rule! Easy to adapt for cooperative play, it's also a remarkably good model of the scientific method!
PRODUCT DETAILS:
Inside Zendo you will find: 27 Pyramids, 27 Wedges, 27 Blocks, 27 Black Disks, 27 White Disks, 27 Green Cubes, 40 Rule Cards, 2 Clips to attach to the cards, and 2 Instruction Booklets.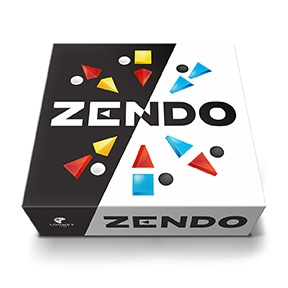 Zendo
Availability: Release on Receipt
Box: 9" x 9" x 2.5", 2 lbs
Case: 6 games per master carton
Case:
16" x 9.75" x 10.25", 11.4 lbs
---
[12/14/17] UPDATE: Zendo is sold out at distribution - but all their warehouses will be restocked soon! Thank you to everyone who pre-ordered, it helped us get thousands of copies of this new game out into the hands of fans in time for the holidays. Our distriubtors will be restocked next week - please get more copies onto your store shelves so you are ready for those January sales when people have holiday cash in their pockets.
We will be launching Zendo in our Toy Fair booth in February - come see us in booth #6943 in the Javits Center.
---
[10/30/17] UPDATE: Zendo is on the ocean! If all goes smoothly through customs, we should start shipping the week of Nov 20th. This is enough time for your distributor to get you copies before the holidays!
Here is our message to consumers - we are pushing hard for preorders on this one:

Our distrubtors need to give us numbers by November 10th --- so please get your pre-order in today!
---
[08/16/17] PLEASE NOTE: *Availability=TBD* (release on receipt, no street date) - Zendo is currently at the printer (in China) but the ship date is variable and unknown. We do know that the game will likely arrive at our warehouse without enough time for our distribution channels to get product into stores before the holiday sales are basically over. Therefore, we are doing things a little differently with this game release:
There will be no street date. We will ship to distributors and retailers simultaneously just as soon as the product arrives at our warehouse.
Pre-Orders placed directly with Looney Labs (from both distributors and retailers) need to be in full case packs (6 games/case), can not contain any other items from our line, and will require a credit card in advance unless you already have terms with us.
Retailers who don't wish to buy directly in case packs are encouraged to order from their usual distributor and will receive product 2 weeks or so later (due to extra shipping & processing time).
We will NOT be offering a free demo copy program with this launch because it will delay shipment further.
There is a possibility that we will miss the holidays even with this plan. If that happens, we will offer consumers and retailers "gift coupon" artwork to give to gift recipients stating that the game will arrive shortly after the holidays.
This beautiful picture is on the back of the box!