UGLYDOLL® LOONACY
The Maniacal Matching Card Game
Uglydolls like to have fun. When Babo, OX, Wage, Ice-Bat, and all the rest aren't busy working, they love playing the fast-paced matching game: Loonacy. And now that Loonacy has been imported into the Uglyverse (through Ugly Port Harbor, of course), it's become Uglydoll® Loonacy!
Uglydoll® Loonacy is a rapid-fire game where players race to be the first to empty their hand of 7 cards by matching one of two images with the images on the open piles in front of them. Speed of the hand and luck of the draw determine the winner in this frenzied free-for-all! Remember: always be ugly!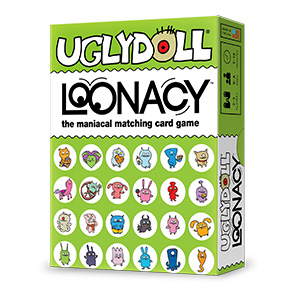 Uglydoll® Loonacy
Street Date: March 11, 2016
Don't forget to also put these
SKU's into your system, as needed:
Demo Copy: LOO-DC-073
Download hi-res box image • Download Sell Sheet • Press Release

Like all our standard size card games, it comes in a display of 6 units, and is packed out in full cases of 48 units (8 displays).