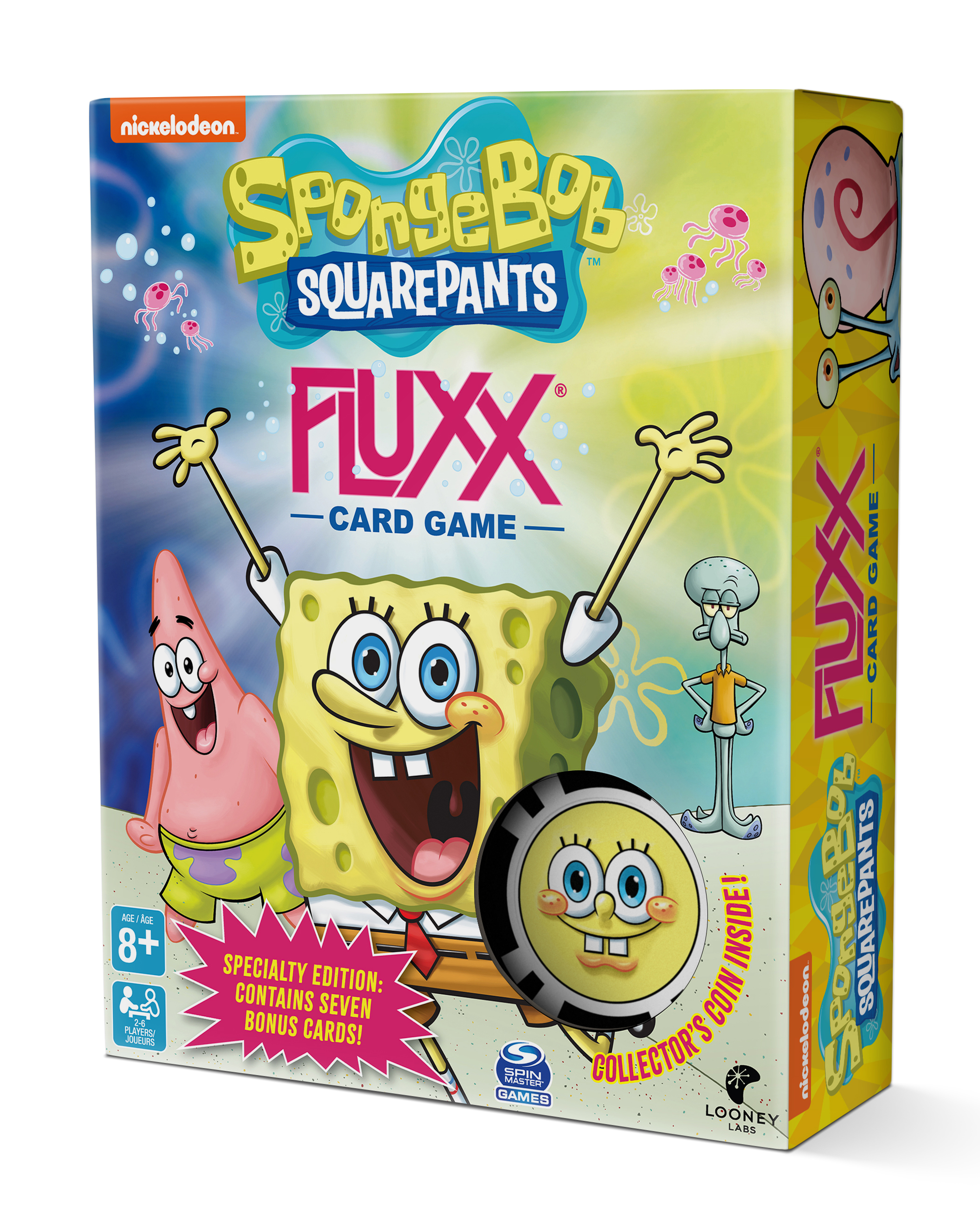 Name: SpongeBob Fluxx – Specialty Edition
Street Date: July 30th, 2020
Delivery Date: July 28th, 2020
You probably already know who lives in a pineapple under the sea, but now you can join the whole Bikini Bottom gang in an undersea version of Fluxx! You can steal Mr. Krab's Money or Squidward's Clarinet, give a Krabby Patty to Plankton – you could even drive off in the Invisible Boatmobile! So, if nautical nonsense be something you wish, you don't have to use your imaaaagination, just play Fluxx like a fish! Includes a collectible coin (and 7 bonus cards).

**SpongeBob Fluxx comes in a set-up box with no display.**
MSRP: $20.00 Box Size: 6.13" x 5" x 1.5"
Game SKU: LOO-106 Box Weight: 9 oz
Game UPC: 778988330289 Case Weight: 3.7 lbs
Demo SKU: LOO-DC-106 Units per Case: 6
---

PLEASE NOTE: We are not making a demo kit or a marketing kit for these products. Demo copies are available from us or our distributors at a 70% discount. We might print and send out posters at a later date, that is still to be determined.
We are setting a delivery date on these items of two days before the street date.
Distributors:

It is okay to send this to stores a little early, so they are sure to have it ready for sale on street date, but please make sure you promote the street date as the date they can start selling the game!
Retailers:

Please don't sell it until the street date if your copies arrive early!



---

© 2020 Viacom International Inc. All Rights Reserved. Nickelodeon, SpongeBob SquarePants and all related titles,
logos and characters are trademarks of Viacom International Inc. Created by Stephen Hillenburg.