Announcing Retro Loonacy
the maniacal matching card game
Get ready for a blast from the past! Featuring beautiful artwork by the incomparable Andrew Heath, we're proud to present Retro Loonacy. Full of old fashioned illustrations, Retro Loonacy is an instant classic for your game library.
Retro Loonacy is a neato, rapid-fire game where players race to be the first to empty their hand by matching one of two images with the images on the open piles in front of them. Retro Loonacy has an out-of-sight design, featuring nostalgic images of times gone by. It's easy enough to teach in a single sentence, and so addictive you can't play just one game. Speed of the hand and luck of the draw determine the winner in this frenzied free-for-all! It's a gas!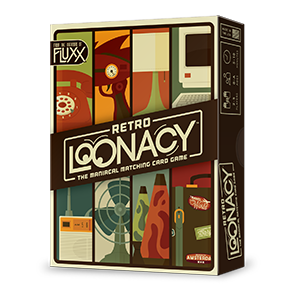 Retro Loonacy
Don't forget to also put these
SKU's into your system, as needed:
Demo Copy: LOO-DC-068
Like all our standard size card games, it comes in a display of 6 units, and is packed out in full cases of 48 units (8 displays).