Please help your local game store sell Pyramid Arcade!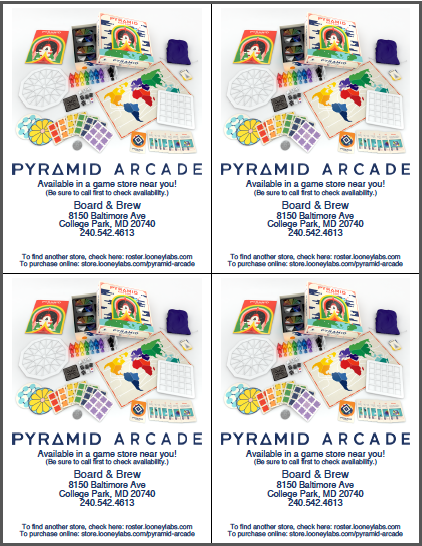 Pyramid Arcade is special. It is the biggest most beautiful thing we have ever created and we want to give it time to shine and become an evergreen product for sale in game stores. To help ensure this, we are experimenting with a new sales model - just for this one game - PYRAMID ARCADE is NOT for sale online on AMAZON or any other online game store. Please let your friends know about a store nearby where they can buy it! If there is no store near you, you can always buy it online from LooneyLabs.com.
However you bought your copy, please help your friends and family find a game store nearby that sells Pyramid Arcade. To do this, enter your zip code below and click on the PYRAMID ARCADE FLYER link next to the Map link. This will pull up a custom flyer for the store that you can print and hand out to anyone you play pyramid games with to help them find a place nearby to buy themselves a copy of the game.
PLEASE call the store first to make sure they are stocking Pyramid Arcade - every store on this list sells Fluxx, but may not have picked up Pyramid Arcade yet. If you have the time, please stop by the store with your copy of the game and show it to the staff - and let them know you will be handing out these flyers when you play with friends! And if you are looking for a place to meet up with local pyramid fans, please play at your local game store and help us promote pyramid games in stores! Thank You!

---