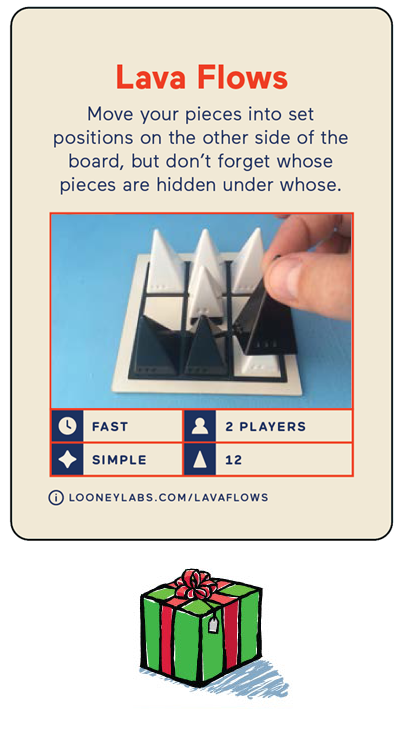 Our 2017 Holiday Gift is a digital release of rules for a new game for Looney Pyramids called Lava Flows!
In Lava Flows, be the first to move your pieces to the other side of the board, assembled as three Cinder Cones (a Large capped by a Medium of the same color). Don't forget whose pieces are hidden under whose! Once your six pieces are arranged on the opposite side of the board as three Cinder Cones, one per space, you win!
2 can play with 6 black pyramids and 6 white pyramids (3 mediums and 3 larges of each). Players will also need a 3x3 grid as a game board.
The rules PDF is now online: LAVA FLOWS
A Pyramid Arcade-style card for Lava Flows will be included for free with every order shipped from Our Webstore between November 23 and January 14. After January 14, it will be available in our store for purchase.
Happy Holidays from everyone here at Looney Labs!