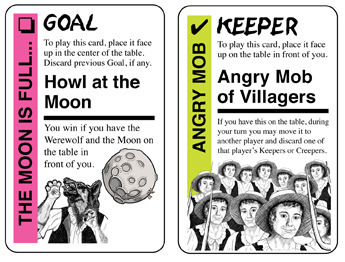 UPDATE : We did it - the project closed with 775 backers and $29,300. THANK YOU!
We were so close to our $30,000 stretch goal, that we decided to make/send everyone the Howl at the Moon promo card anyway... and we also are going to include another new promo card: Angry Mob of Villagers. This last card will not be exclusive, so anyone who missed out on backing the project will be able to get this Angry Mob to bring a bit of Werewolf fun into their Fluxx deck.
A big THANK YOU to everyone who backed our project!