NATURE FLUXX
The nature game with rules that change like the weather!
In the wild, you have to adapt to survive. Grown from the seeds of EcoFluxx, Nature Fluxx is ready to take root in the game libraries of gamers all over the world. Full of rules that are constantly changing, Nature Fluxx has players constantly adapting and evolving - just like in nature!
Nature Fluxx is the next evolution of EcoFluxx. It maintains the same cards and gameplay, but updates the card frame art and packaging. Full of plants and elements and things that-eat-other-things, Nature Fluxx will remind and teach everyone about the wonders of nature (all while playing an all-natural game of Fluxx)!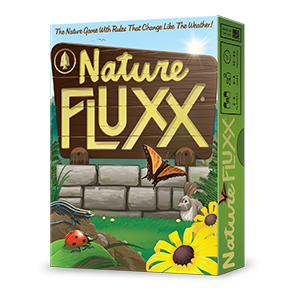 Nature Fluxx
Don't forget to also put these
SKU's into your system, as needed:
Demo Copy: LOO-DC-071
Like all our standard size card games, it comes in a display of 6 units, and is packed out in full cases of 48 units (8 displays).