Announcing Monster Fluxx
It's Frightfully Fun!
Skeletons, ghosts, mummies, vampires, franken-monters, and more all have collected to groan and moan through this monstrous version of Fluxx. With art by Derek Ring, Monster Fluxx is a scary good time.
Let the monster mash begin! Classic monster movies and TV shows are the theme in this basic Fluxx deck. Despite the prominent monster presence, this deck is Creeper-free. Designed to introduce new players to the Fluxx system, it has just the four main card types and comes in a hang-tab style box at a slightly lower price point.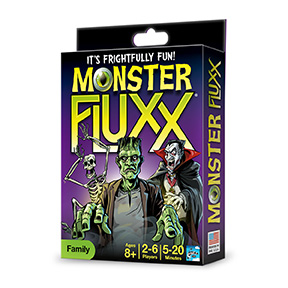 Monster Fluxx
Don't forget to also put these
SKU's into your system, as needed:
Demo Copy: LOO-DC-057
Monster Fluxx is packaged in a hang-tab box and packed out in full cases of 48 units.