MAD LIBS®: THE GAME
You'll VERB your NOUN off!
Since its creation in 1958, Mad Libs® has become the world's most popular word game, with over 125 million Mad Libs® in print. And now, Looney Labs has turned it into Mad Libs®: The Game—a party game that captures all the unexpected silliness of classic Mad Libs®.
Mad Libs®: The Game features all the wordplay you love about Mad Libs®, but with a whole new dynamic. Play Word Cards from your hand to complete the Sentence Card in the most appropriately inappropriate way possible. Funniest sentence wins the round and the first player to win three rounds wins the game! With Mad Libs®: The Game, the fun is ADJECTIVE and ADJECTIVE!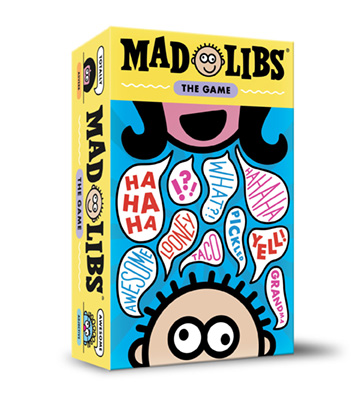 Mad Libs®: The Game
Street Date: March 31, 2016
Don't forget to also put this
SKU into your system, as needed:
Demo Copy: LOO-DC-072
Download hi-res box image • Download Sell Sheet (PDF)
© 2016 Penguin Random House LLC. All rights reserved. MAD LIBS® and all related titles, logos, and characters are trademarks owned and licensed for use by Penguin Random House LLC. Used with permission.
Packaged in a two-part box (5.25" x 8.5" x 2") and
packed out in full cases of 5 units.
Master Carton dimensions: 10.9" x 8.8" x 5.44"