Looney Labs Privacy Statement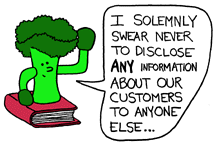 We at Looney Labs have taken great care at every step of the development process to safeguard your data so that no one who is not supposed to be looking at it can gain access to it.
We promise to always keep your information secure. We will retain your name and address in our customer database and contact you by email about your account, if needed. We will email you to communicate about our games and other company news. You may opt out of these communications by clicking the "unsubscribe" link within an email or by contacting us at thelab@looneylabs.com.
Our shopping cart is hosted and powered by NetStuite (
NetSuite's Privacy Policy
). In order to purchase products from our webstore, we do require that you register with us. The information that we request when you register includes your name, email address, billing address, shipping address, and credit card number. If you chose to pay by credit card, you may select to have your credit card information purged from the system once your order ships and you are billed, or you can selected to keep it on file. If you do not wish to keep it on file, when you come back to place another order you will need to enter your payment information again.
The rest of the information will be stored indefinitely unless a request is submitted to erase it. Please be assured that we will treat this customer information as private and confidential, and we will not disclose this information to other individuals or organizations.
Our shopping cart uses cookies. A cookie is a small text file on your computer which a website sends to your computer to allow the website to store information which uniquely identifies our users. Our cookies do not collect or store personally identifiable information. Rather, the cookie stores a token which uniquely identifies a particular user at a particular time. That token is then linked to the user information in our secured databases. You can always reset your browser to refuse all cookies or to display a message when a cookie is being sent. If you reset your browser to refuse cookies, some of the shopping cart features and functionality may not be available to you.
We are partnered with NetSuite. They provide us with a complete web-based application that gives us tools we need for such things as customer relationship management, order processing, shipping, inventory, accounting, our shopping cart, etc. You may receive communications from us via NetSuite. When you get emails from us via NetSuite you may notice links in the emails start with something like "http://nsvirtualurl.com/app/crm/marketing/campaignlistener.nl?" or "https://forms.netsuite.com/app/crm/marketing/campaignlistener.nl?" - this is legitimate and was sent by us. We DO NOT share this information with anyone, and it is not being used by NetSuite or any other 3rd party.
If you would like to: access, correct, amend or delete any personal information we have about you, register a complaint, or simply want more information contact our Privacy Compliance Officer at thelab@looneylabs.com or by mail at:
4920 Niagara Road, Suite 405
College Park, MD 20740
Looney Labs
is committed to safeguarding the privacy of our customers' personal data. This statement is effective as of August 21, 2018. We reserve the right to change, modify, add or remove portions of this statement from time to time and in our sole discretion. Please feel free to
contact us
with any comments or questions.