Keepers (15 cards)
Zombie Repellent

Sonic Tranquilizer

The Shotgun

The Chainsaw

The Shovel

The Car

Lumber

Can of Gasoline

The Baseball Bat

A Friend (male)

A Friend (female)

Coffee

Donuts

Sandwiches

Brains
Creepers (15 cards)
Zombie (8):

Woman in evening gown

Postman

Scientist

Little girl

Waitress

Soldier

Football player

Ballerina

Pair of Zombies (3):

Dudes

Scouts

Nurse with wheelchair lady

Larry the Zombie

Zombie Trio

Trio of Zombies

Zombie Quartet
New Rules (25 cards)
Basic Rules

Draw 2

Draw 3

Draw 4

Draw 5

Play 2

Play 3

Play 4

Play All

Hand Limit 0

Hand Limit 1

Hand Limit 2

Hand Limit 3

Double Agenda

No-Hand Bonus

Groaning Required

Zombie Season

Eradication Bonus

Adrenaline Bonus

Weapon Bonus

It's Not Working!

Dead Friends

Look, Over There!

Zombie Ain't So Bad

Zombie Boss
Actions (23 cards)
Draw 3, play 2 of them

Draw 2 and Use 'em

Everybody gets 1

Trash a Keeper

Exchange Keepers

Steal a Keeper

Trade Hands

Use what you take

Rules Reset

Taxation

Trash a New Rule

Discard & Draw

Let's Do That Again!

Let's Simplify

Take Another Turn

Zombie Jamboree

No Zombies

...and Stay Dead!

Return of the Dead

Hey, Over Here!

Let's Shamble!

Eaten by Zombies!

Out of Ammo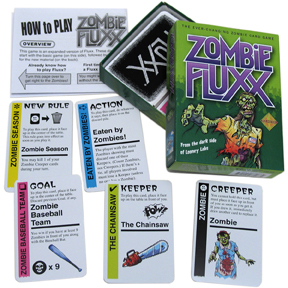 Goals (21 cards)
They Fear Fire (Gasoline & Lumber)

Hit the Gas! (Gasoline & The Car)

Arsenal (The Shotgun & at least 2 other potential weapons)

"Shotgun!" (The Shotgun & The Car)

We're All All Right! (2 Friends & No Zombies)

Breakfast and Lunch (Donuts & Sandwiches & No Zombies)

Zombie Food (Brains & a Friend & No Zombies)

What's in the Toolshed? (The Shovel & The Chainsaw & No Zombies)

Food & Gas (Gasoline & Sandwiches & No Zombies)

Barricade the Windows (Lumber & a Friend & No Zombies)

I Alone Survived (The Car & no Friends and everyone has Zombies except you)

We Need Firewood (Lumber & The Chainsaw & No Zombies)

Food for Thought (Brains & Coffee & No Zombies)

Provisions (Sandwiches & Coffee & No Zombies)

Donuts with Coffee (Donuts & Coffee & No Zombies)

Getaway Driver (The Car & a Friend & No Zombies)

Four, Three, Two, One (A Zombie, A Pair of Zombies, either Trio, and the Quartet)

Zombie Baseball Team (The Baseball Bat & at least 9 Zombies)

Brain Baseball (The Baseball Bat & Brains & at least one Zombie)

Brain Sandwiches (Brains & Sandwiches & at least one Zombie)

"I'll Hold 'em Off!" (You alone have a Zombie & you have something you can use as a weapon)
This makes a total of 100 cards in the box. A rulesheet is also included.
---
What are the differences between Version 1.2 and Version 1.1
We removed an advertising card and replaced it with the card Zombie Boss which used to be available in a now out print wooden box called the Zombie Boss Boxx.

We swapped in the color rules icons which are used in most of the versions of Fluxx at this point.
What are the differences between Version 1.1 and the First Edition?
Better box: The new version features a two-piece box whereas the First Edition was packaged in a side-opening tuckbox.
New Zombie Art: In the original edition, production constraints required us to use the same illustrations more than once, with most of the basic Zombies appearing twice each. Version 1.1 eliminates this redundancy, by replacing the duplicate artwork with the new zombie illustrations featuring in the Flamethrower expansion pack. The new Zombies are the Waitress, the Soldier, the Football player, the Ballerina, the Scouts, and the Nurse with lady in a wheelchair. [ Note: Since this expansion pack is no longer available, The Flamethrower itself is available as a single promo card in our webstore. ]
Larry the Zombie: Originally released as a promo card, Larry has taken the place of one of the doubly-redundant Pair of Zombie cards.
Minor Wording Corrections: As you can tell from the questions on the Zombie Fluxx FAQ, the First Edition has a number of cards with text that needed small corrections. The following 10 cards have been tweaked for 1.1: Arsenal, I Alone Survived, Zombie Victory, Eaten By Zombies, No Zombies, Let's Shamble, Hey, Over Here, Adrenaline Bonus, Dead Friends, and Zombie Season.
Hand Limit Revisions: The Hand Limit cards have been updated to reflect the decision to disallow Early Limit Compliance.
Orange Basic Rules: After the discovery of the Meta Rule, the stripes on the Basic Rules have been switched to be Orange.