Keepers (21 cards)
Airborne Cow

The Animator

The Catapult

Coconuts

Excalibur

The Finger of God

The Foot

The Holy Grail

Holy Hand Grenade of Antioch

Important Message

King Arthur

Robin's Minstrels

Nude Organist

Resting Parrot

A Shrubbery

Sir Bedevere

Sir Galahad

Sir Lancelot

Sir Robin

Unladen Swallow

Trojan Rabbit
Creepers (6 cards)
3-Headed Giant

Legendary Black Beast of Aaarrghh

Grim Reaper

Killer Rabbit (with nasty big pointy teeth)

The Knights Who Say "NI!"

The Spanish Inquisition
New Rules (20 cards)
Draw 2

Draw 3

Draw 4

Draw 5

Play 2

Play 3

Play 4

Play All

Hand Limit 1

Hand Limit 2

Hand Limit 3

Hand Limit 4

Keeper Limit 3

Double Agenda

No-Hand Bonus

Get On With It!

One, Two, Five!

I Just Want To Sing!

Always Look on the Bright Side of Life

Outrageous Accent
Special Rules (1 card)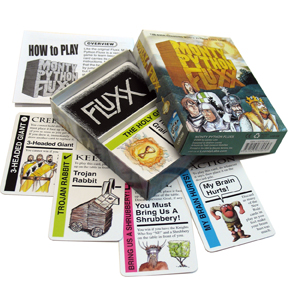 Goals (31 cards)
A Bird in the Bush

Consult the Book of Armaments! (aka Armaments 2:9-21)

He is Brave Sir Robin...

Bring Forth The Holy Hand Grenade

You Must Bring Us A Shrubbery!

Death of the Animator: (aka: The Cartoon Peril Was No More)

The Cave of Caerbannog

The Cheese Shop

Coconut-Laden Swallow

'Course it's a Good Idea!

This is an Ex-Parrot

Supreme Exec Power (aka: Strange Women Lying in Ponds Distributing Swords Is No Basis For A System of Government)

Fetchez la Vache!

Monty Python's Flying Creatures

Gone to Meet His Maker

Grail-Shaped Beacon

He Bravely Ran Away

Holy Relics

I Have a Plan...

Knights of the Round Table

The Meaning of Life?

Message For You, Sir...

And There Was Much Rejoicing

Opening Credits

Quest Accomplished

Rabbits of DOOM!

Squashed From Above

They're Tropical! (aka: This is a Temperate Zone!)

Unexpected Things (aka: Things No One Expects)

You're Using Coconuts!

Who Leaps Out?
Actions (21 cards)
Stop That! No Singing!

I'm Not Dead Yet!

Nudge, Nudge, Wink, Wink...

Run Away! Run Away!

My Brain Hurts!

Bring Out Your Dead!

And Now For Something Completely Different

My Hovercraft is Full of Eels

This Game Has Become Too Silly

What Is Your Quote?

Creeper Sweeper

Draw 2 and Use 'em

Draw 3, play 2 of them

Exchange Keepers

Jackpot!

Let's Do That Again!

Move a Creeper

Rules Reset

Steal a Keeper

Trade Hands

Trash a Keeper
This makes a total of 100 cards in the box. A rulesheet is also included.
---
Expansion cards
---
The Castle (Keeper)

French Persons (Creeper)

Taunting By the French (Goal)

Camelot (Goal)

The Castle of Aaarrgh (Goal)

Second Taunting (Action)

We Already Got One (New Rule)