November 25, 2010
Volume 3, Issue 3
---
Feature Article
Give everyone the gift of FUN this holiday season!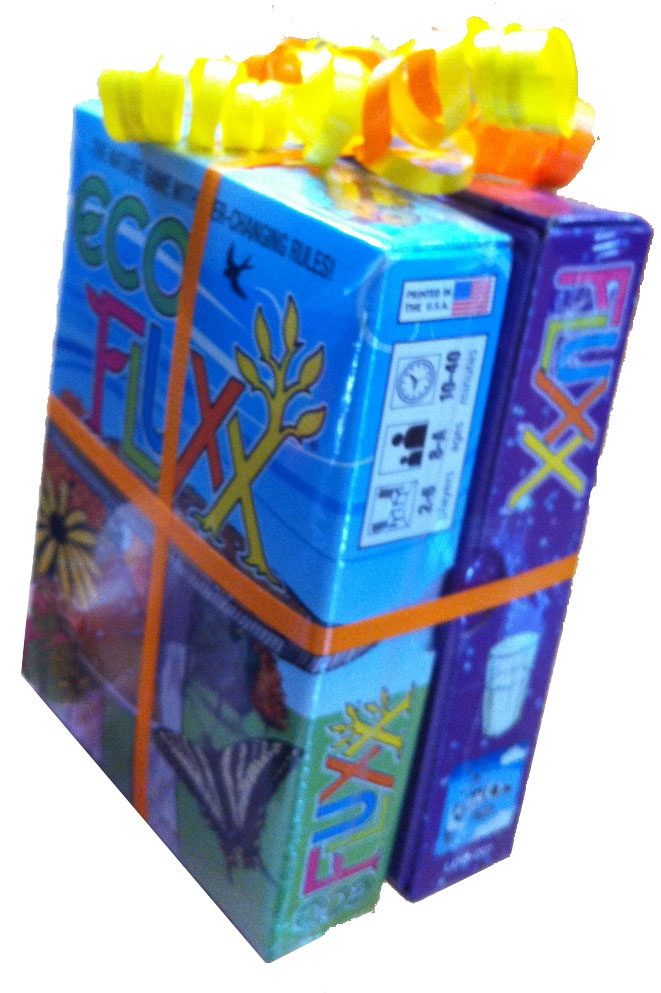 ---
Our Holiday Gift
Each year (since 1989) the Looneys have been creating a Holiday Gift for their fans. Some big, some small, some given just to a few, and some mailed out to thousands. This year it was not in the cards to do a physical mailing out to everyone - but we do have a Holiday Gift for you! It's one of several new pyramid games Andy has been creating recently!
Simple to play, just a few moments to learn, and it's great for all ages! And you only need one Treehouse set worth of pyramids to play. The struggle for control of the middle square has a "king of the hill" feeling to it, so we named it after the "king of the pyramid" as you might say, i.e. the Pharaoh.
Give it a try - you can download it here: Pharaoh
---
Trivia Question
With food on our minds (see Survey question below), we wondered: How many Food Keepers have there been? (Note that drinks don't count, plus we're only talking about ready-to-eat human foods, not Zombie Food, nor living things that could be eaten in EcoFluxx, etc.)
Scroll down to see the answer.
---
Ask Andy
We asked Andy "What are YOUR answers to this week's survey questions?"
Andy's answer: "My least favorite thing is those green beans. As for my favorite thing, it's often the mashed potatoes. But when I was growing up, it was always the dinner rolls. Nothing beats those dinner rolls my mom learned to make from my grandmother. I just posted the recipe at Wunderland.com!"
Ask Kristin
Q: What's going on with the new Looney Labs Fan Club site?
Kristin's answer: "We have a new site we hope to open up to everyone soon! If you would like to get involved early as one of our beta testers, drop me an email and let me know."
---
Survey of the Month
Holiday Foods! Since it's Thanksgiving, everyone's looking forward to that big holiday feast. Which part of the traditional Thanksgiving dinner is your favorite?
Take the Survey! We'll post the results in our next newsletter.
---
Results of Last Issue's Survey
Here's what the 112 people who responded to our Back to the Future survey said:
Which of the 3 movies is your favorite?
66.1% - Back to the Future
19.6% - Back to the Future: Part 2
14.3% - Back to the Future: Part 3
Who is your favorite primary character?
77.0% - Dr. Emmett Brown
21.2% - Marty McFly
1.8% - Biff Tannen
Who is your favorite supporting character?
25.9% - Einstein the dog
15.2% - Lorraine Baines
15.2% - George McFly
13.4% - Principal Strickland
8.0% - Clara Clayton
5.4% - Seamus McFly
5.4% - Jennifer Parker
4.5% - Buford Tannen
3.6% - Mayor Goldie Wilson
2.7% - Marty McFly Jr
0.9% - Needles
0.0% - Marlene McFly
0.0% - Griff Tannen
---
Trivia Question Answer
13 Food Keepers! That's 3 from Original (Cookies, Bread, & Chocolate), 3 from Family (Cheese, Cake & Ice Cream), 4 from Stoner (Pizza, Brownies, Ice Cream, & Nachos), 2 from Zombie (Donuts and Sandwiches), and 1 that was only ever released as Promo Card (Tarts).
---
Thanks for giving Looney Labs Games as gifts this holiday season!
That coupon again - HH535X (expires Jan 15, 2011) - $5 off a $35 order at store.looneylabs.com