August 2, 2010
Volume 3, Issue 2
---
Feature Article
Get Ready for Back to the Future!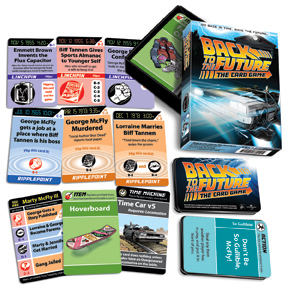 Looney Labs is very proud to announce the upcoming release of Back to the Future: The Card Game, coming to a game store near you on September 3, 2010.
As in Chrononauts (the classic Looney Labs card game of time travel upon which the new game is loosely based), the central element of the game is the TimeLine. A grid of 24 cards is laid out on the table and works like a gameboard reflecting the current flow of history. Players can change historical events, i.e. scenes from the trilogy of Back to the Future movies, by turning over cards on the TimeLine.
The players take on the roles of characters from the future whose ancestors appear in the movies, and whose very existence therefore depends on how those events finally settle out, after various time travelers (including you) start messing with the flow of time. For example, if you are Marty McFly III, your whole future depends on Marty & Jennifer getting married on schedule in 1994, and on Marty Jr not going to jail in 2015. (Among other things.)
The artwork was created by Derek Ring (who previously did artwork for Zombie Fluxx and EcoFluxx) and his illustrations are truly superb. He did a particularly amazing job of creating different images for each of the stages we see the Delorean time car go through (from the Plutonium-powered v1 to the v5, pushed by Overpowered Locomotive).
Back to the Future: The Card Game is produced under license. (Back to the Future is a trademark and copyright of Universal Studios and U-Drive Joint Venture. Licensed by Universal Studios Licensing LLLP. All Rights Reserved.) The game mechanics are also patented. (US Patent 6,474,650).
You can pre-order it now at your Friendly Local Game Store, and we'll begin taking pre-orders at LooneyLabs.com on August 13th.
Are You The Traitor? Wins an Origins Award!
We're very proud to announce that Looney Labs has received its 7th Origins Award - Best Party Game of 2009 - for our deception party game, Are You the Traitor?! Woo-hoo! Traitor has some novel features that make it quite different from most other party games, even its major predecessor, Are You A Werewolf?, so it was particularly gratifying that so many people enjoyed the new style of gameplay. Thanks to everyone who voted for us! Ask for it at your local game store!
Zombie Boss Boxx Blow-out Special!
Looney Labs will be discontinuing the Zombie Boss Boxxes of both sizes. To sell through the remainder of our stock, we're putting them on deep discount! Formerly priced at $14/$12, they are now HALF PRICE at $7/$6. We've created a fun Zombie-themed bundle deal, with a Zombie Fluxx deck, poster, and Flamethrower pack, along with the half-priced Boxx. Both the bundle deals and the half price Boxxes by themselves can be found in the Discount Center at our webstore. Get them now while supplies last!
New Promo Cards!
We've got two new promo cards for you! First, there's a New Rule card for Fluxx inspired by a rule in Back to the Future: The Card Game, called Swap Plays for Draws. This amazing new rule allows the player to end their turn early, exchanging unused play actions for extra card draws. The new promo card appears on an ad postcard for the new game and uses the great new peel-off promo-postcard technology we started using earlier this year. (If you missed them, check out the promo cards we made for the re-releases of Family Fluxx and EcoFluxx: Summer Vacation and Recycling)
The other new promo card we have in the works is for Back to the Future: The Card Game, and it's a unique Item from the future called the Pizza Hydrator! We couldn't quite squeeze it into the 100 card set, so we decided to make it into a bonus card.
The Swap Plays For Draws card debuted at Origins and will be available soon in our online store for $1 - but please encourage your local game store to get our Advance Demo Kit for Back to the Future:The Card Game which includes a pack of these promo cards so you can get your card from your local store! Also, please ask them to pre-order the Pizza Hydrator which will be released through distribution along with the game itself. Check out our web site to find a Friendly Local Game Store near you... if you don't have a store nearby, the Pizza Hydrator will show up in our online store sometime in September.
---
Trivia Question
This question is only for those who've seen the entire Back to the Future trilogy, since it's rather spoilery: How did Doc Brown get back to the future from 1885, given that he had no power source available at that time that would have been capable of powering a Flux Capacitor? (It's well established that you need a much more powerful energy source for the time circuits than for whatever you are using to bring your vehicle up to the required 88 mph, so even assuming he could build a time locomotive that could handle such speeds, it doesn't explain how he could have sent that train forward in time, since neither Mr. Fusion, pellets of plutonium, nor a predictable bolt of lightening were available to him in 1885.)
Scroll down to see the answer.
---
Ask Andy
Q: Our group tried to play Are You The Traitor? and we couldn't quite get the hang of it. How to you get people to talk? How do people have a free-form discussion when no one knows what to say?
Andy's answer: "This can indeed be tricky. Traitor is one of those games that you just have to try playing a few times in order to fully understand. Sometimes you just have to get through a couple of awkward rounds before people loosen up and start accusing each other of being evil. That said, the more you understand about the gameplay dynamics, the faster you and others will be able to get into it. With that in mind, I highly recommend an article written by Sam Zitin. He's got a lot of great tips and advice for the new Traitor player, check it out: Tips and Strategy Guide for Traitor. You might also find this video useful: it's an example round of the game being played by our own test group, the Wunderland Toast Society. "
---
Survey of the Month
Which is your favorite... regarding the three Back to the Future Movies.
(includes a sneak peak at some timeline cards from the new game!)
Take the Survey! We'll post the results in our next newsletter.
---
Results of Last Issue's Survey
Which of the following features of the upcoming new Looney Labs Fan Club are you interested in?
Here's what the 135 people who responded said they were interested in:
84.3% - exclusive offers to fan club members
82.2% - insider information for fan club members
77.6% - a newsletter similar to Notes From The Lab
66.7% - learning about local events in your area
60.7% - finding local retailers in your area
56.7% - earning rewards for introducing new people to our games
43.0% - connecting with local players in your area
41.0% - access to video demos and instructions
37.3% - online discussion of games with other fans
35.8% - resources for using our games in an education setting
33.3% - getting involved in running local events
---
Trivia Question Answer
According to Andy, here's the Untold Story of How Doc Brown Got Back to the Future from 1885. First, he would have needed to accumulate a small fortune -- an easy task for someone with his general knowledge of future events. Then he'd have been able to finance the construction of a circular section of railroad track on the top of a storm-prone mesa. After that, all he'd have to do was wait for a big thunderstorm to roll in, and then start driving his time engine around in circles, at 88 MPH, until the lightning rod finally attracted a strike. It's so simple!
---
Thanks for Playing Looney Labs Games!