August 8, 2009
Volume 2, Issue 3
---
Feature Article
Remember Woodstock (or wish you did)? Aquarius' beautiful cards will take you back!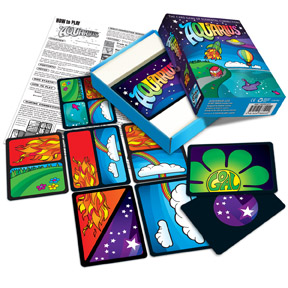 Aquarius is the perfect first family card game. Kids love the colorful design, fast play, and familiar matching strategy, while adults love the game's competitive edge. Can you bluff your way to the 7th connection? Deal the cards and plan your move, but don't get too comfortable - you may get zapped!
Aquarius is celebrating it's 10th Anniversary with all new packaging, a fun new diagonal Element Card and a new Action Card! The deck has gone from 60 to 80 cards and we even added a set of alternate rules for preschoolers as young as three. Check out this great review for a fantastic image of the game in play.
Now, play your most important action and go pick up your copy from your friendly local game store or if you must shop online, please buy direct from our webstore.
Coming Soon from Looney Labs - Martian Fluxx!
The makers of Zombie Fluxx bring you Martian Fluxx - another classic monster story in ever-changing card game form. It's an Invasion from the Planet Mars! The players are the Martians determined to destroy the Pathetic Humans who are represented as Creeper cards. It's got Flying Saucers, Giant Tripod War Machines, Tentacles, Ray Guns, a Mothership, and of course, a Space Modulator. Other Creepers include Germs, the Army, and the Important Human (required for the "Take Us To Your Leader" Goal). Get your tentacles on a copy of Martian Fluxx before the Humans escape from the Abduction Chamber!

Martian Fluxx goes on sale September 25, 2009 - but you can play with a demo deck NOW at your friendly local game store! Looney Labs would love to get a Demo Kit out into every game store that sells Fluxx... and we need your help to make this happen. If you can, please visit or call your local game store and let them know you would love to see an advance copy of Martian Fluxx and have a chance to get the awesome new Promo Card: "Talk Like A Martian".
Talk Like A Martian? That's right - it's a brand new promo card, being given out free in game stores to customers who try out the Demo Copy of Martian Fluxx and place a pre-order at the store. If your local store doesn't know about the promotion, let them know they can order it from any of their distributors.
---
Trivia Question
What was Andy's working title for Aquarius?
Scroll down to see the answer.
---
Ask Andy
Q: What inspired you to make Martian Fluxx?
Andy's answer: "I created it for Robin Vinopal, our COO and one of my closest friends. After publishing Zombie Fluxx, we were talking about what to do next, and she kept saying how cool it would be to have a Fluxx game featuring aliens, flying saucers, ray guns, and stuff like that. Since I've been a sci-fi fan all my life, this was much easier for me than Zombie Fluxx -- that was a theme I really had to work at getting into, since I'd spent most of my life avoiding horror movies. Robin's birthday was coming up, so I decided that an alien-themed Fluxx prototype would be the perfect birthday gift for her, and of course everyone liked it so much that we decided to turn it into a real product. The other major breakthrough was the realization that the players should be the Martians, and that the Humans who stand in the way of our invasion should be Creepers... this came about as soon as I started drawing up Keeper ideas. After all, the Martians are the ones with all the cool stuff! It just didn't make sense to have Keepers like the Flying Saucer and the Ray Gun unless the players in possession of those cool items of technology were the aliens. Even though it's taken us almost two years to get this game from prototype to finished product (the main delay having been the opportunity to make Monty Python Fluxx) the basic design is almost identical to the hand-drawn prototype I made for Robin; I only added a handful of cards since that first version, and only one card was removed. That card was the Robot, a Keeper that just didn't fit with the other pieces of hardware in the game. (Robots are human technology, after all.)"
---
Survey of the Month
This is the question of the Age of Aquarius Players. (even if you haven't played Aquarius, please take our survey!)
Take the Survey! We'll post the results in our next newsletter.
---
Results of Last Issue's Survey
Our question last time was: How often do you shop at your Friendly Local Game Store (FLGS)?
Here are the results of the 92 votes cast:
I shop in my local game store about once a month - 22.8%
I shop in my local game store a few times a year - 22.8%
I don't have a local game store, so I shop online - 20.7%
I shop in my local game store almost every week - 17.4%
I prefer to shop online - 13.0%
I work at a game store! - 3.3%
---
Trivia Question Answer
Purple Submarine. The name Aquarius was later suggested by Charles Dickson (aka Number 12). The name Purple Submarine was later reused as the name of the Beatles Reunion CD for Chrononauts.
---
Thanks for Playing Looney Labs Games!