May 18, 2009
Volume 2, Issue 1
---
Feature Article
The Castle is Here, the Traitor is on the Way!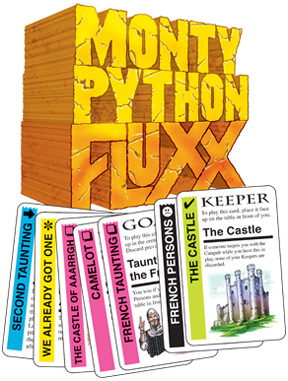 It's been awhile since our last official report, and we've been very busy here in the Lab!
The Big News of the moment is that the Castle Expansion for Monty Python Fluxx has arrived! This 7-card set is named for the new Keeper, which is the Castle, but even more exciting is the new Creeper: it's the long-awaited French Persons! Together they make a goal, Taunting by the French, one of three new Goals in the set, which also includes a new Action and a new New Rule.
You can get this new packet of cards FREE with any $10 purchase at participating Looney Labs Superstores! Check out our Store Locator to find a friendly neighborhood game store you!
And that's not all! To promote the Castle, we made a new postcard promo card, also for Monty Python Fluxx: it's a Keeper called Sir Not Appearing In This Game! You can also get this card free at your nearest participating Looney Labs Superstore.
The Big News of the near future is the pending release of Are You The Traitor?, an all-new Deception Party Game that Andy has been designing for the past 2 years. Drawing on years of experience with Are You a Werewolf?, Andy's new game improves on various drawbacks of the classic, most notably the gradual elimination of players. Traitor has a somewhat more complicated storyline, but it's still a snap to learn and also plays much faster than Werewolf. Are You The Traitor? can be played with 4-10 players and only takes 20-30 minutes!
It looks great too, featuring stunning artwork created by David Harrington and Strategia Design. Are You the Traitor? will be for sale in game stores everywhere in early July, but look for your first chance to play in the last few weeks of June. Looney Labs will be playing at the Origins Game Fair in Columbus Ohio June 25-28, and hobby game stores everywhere will be getting advanced demo copies along with a cool new punch-out promo card for Fluxx -- a Creeper called the Traitor. Check our Store Locator for a store near you!
The Big News of the recent past, for those who might have missed it, is that we released a couple of great new Icehouse items late in 2008. The first was Pink Treehouse, a special edition of Treehouse with all-pink pyramids (and featuring a donation to Breast Cancer awareness). The second was World War 5, a fast and simple new 3HOUSE game of International Conquest akin to classics like Risk and Diplomacy. WW5 is played on a special world map gameboard, now available for just $6.
So that's the Big Looney News of the past, present, and future!
---
Trivia Question
During development, the codename for Are You The Traitor? was Secret Project EMR-35. The 35 was an arbitrary numerical assignment, but EMR is a now meaningless acronym.
What did EMR originally stand for?
Scroll down to see the answer.
---
Current Online Specials
Visit LooneyLabs.com and place an order for anything between now and June 30th 2009 - and our warehouse will include a FREE punch-out postcard - read more details at our whenever webzine: http://wunderland.com
---
Ask Andy
Q: When will there be another UnGoal?
Andy's answer: "For those who haven't played Zombie Fluxx, the UnGoal is just like a regular Goal except that the game ends without a winner and the Zombies themselves win instead! So far, the only UnGoal we've released has been Zombie Victory; I didn't put one into Fluxx 4.0 or Monty Python Fluxx because it didn't it really feel right. I don't think it adds much fun really for the game to end without a winner... it's interesting when it happens on rare occasions and for appropriate reasons, but it shouldn't be overused. But the second UnGoal is coming... when Martian Fluxx is finally released this fall, it will include an UnGoal called Retreat!"
---
Survey of the Month
What Do You Like Best About Fluxx 4.0?
Take the Survey! We'll post the results in our next newsletter.
---
Results of Last Issue's Survey
Our question last time was: What's your favorite version of Fluxx?
The winner was: Original Fluxx!
Here are the results of the 198 votes cast:
1) Original Fluxx - 46.0%
2) EcoFluxx - 4.5%
3) Family Fluxx - 1.0%
4) Zombie Fluxx - 22.2%
5) Monty Python Fluxx - 10.1%
6) Other - 16.2%
---
Trivia Question Answer
EMR stands for Evil Magic Ring. In Andy's first version of the game, the MacGuffin (as Hitchcock would call it) was an Evil Magic Ring, but that made the game seem too similar to a Tolkein story, so we decided to make it a more generic Evil Magic Object. Now it's an Evil Magic Key that opens an Evil Magic Book of Evil Magic Spells. (But you'll still find Magic Rings in the game -- they became a special type of Treasure card you can use to steal a Treasure from another player.)
---
Thanks for Playing Looney Labs Games!