November 4, 2008
Volume 1, Issue 4
---
Feature Article
Coming Soon: Fluxx Version 4.0!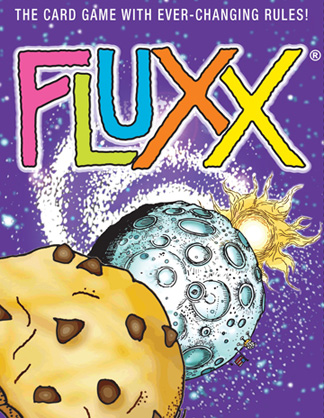 It's been 6 years since the last major upgrade of the original Fluxx game and it's starting to show its age. Last year's Zombie version gave us a really interesting new kind of card, the Creeper, and now the basic game seems a little incomplete without them. We've also gotten used to seeing Keepers in color, and with the arrival of Monty Python Fluxx we've started using a new style of packaging which is a huge improvement over the original style tuckbox. Even the rulesheet is looking small and incomplete when compared to the FAQ-equipped version included in Monty Python Fluxx.
So, it's time for an upgrade. We're about to run out of version 3.1, and when they're all gone, we'll be rolling out version 4.0. We're expecting this to happen in the next few weeks, so collectors take note: if you want a mint copy of the old version, order one quick while they're still available!
Andy will be providing a more detailed breakdown of what's new in version 4.0 in the next update of Wunderland.com, but here's a summary of what's changing:
Colorized artwork, based on the originals, with a few redrawn (most notably the Moon)
100 cards instead of 84
New cards include some which debuted as promo cards (like the Party and the Radioactive Potato), the return of old favorites (like the Eye and Taxes), and an all new-Keeper (the Cosmos)
War, Death, and Taxes have been re-classified as Creepers
Newly-styled two-piece box, with cosmic purple cover art
New rulesheet, featuring great new Frequently Asked Questions section
Another totally new type of card, the Meta Rule, making its debut in the form of a well-tested tournament rule called Rules Escalation
Excited yet? We are! We've been quietly developing and playtesting these changes for a long time, and now it is finally at the printer! So put Fluxx 4.0 on your holiday wish list -- or your shopping list!
---
Trivia Question
Five Keepers were retired from Fluxx in 2002. Two of them came back in Zombie Fluxx (Coffee and Donuts) and two others are returning in version 4.0 (Taxes and the Eye). What's the fifth "Lost Keeper"?
Scroll down to see the answer.
---
Ask Andy
Q: In Monty Python Fluxx, what happens if the Goal is The Cheese Shop and someone plays the Action Bring Out Your Dead?
Andy's answer: "When the Cheese Shop is the Goal, you win if you alone have nothing at all (no Keepers, no Creepers, and no cards in your hand). Meanwhile, the Bring Out Your Dead Action allows all players to discard any of their Keepers, Creepers, or cards in their hand. Together these cards create an interesting situation. If one player chooses to discard all their stuff, they will become eligible to win, but if anyone else jumps on the bandwagon, no one will win. Since everyone gets the option at once, all players must declare what they are discarding, or not, before anyone can claim a victory with the Cheese Shop Goal. Once the dust settles, i.e. once all cards that are being discarded have been gathered up and are being shuffled, you can claim victory if you alone threw everything away. Similarly, if you notice just one other player quietly discarding all their stuff, you should probably do the same thing... either that, or point out the danger to others, in hopes of getting someone else to dump their holdings in order to avoid losing."
---
Survey of the Month
What's your favorite version of Fluxx?
Take the Survey! We'll post the results in our next newsletter.
---
Results of Last Issue's Survey
Our question last time was: Who's your favorite Python?
The winner was: John Cleese
Here are the results of the 138 votes cast:
1) John Cleese - 50.0%
2) Eric Idle - 17.4%
3) Michael Palin - 13.8%
4) Terry Gilliam - 10.1%
5) Graham Chapman - 6.5%
6) Terry Jones - 2.2%
---
Trivia Question Answer
The fifth Lost Keeper is the Pyramid, which will return next year as a card in Martian Fluxx.
---
Thanks for Playing Looney Labs Games!